alt.obituaries Memorial Deadpool
est. 2005
Thomas S. Monson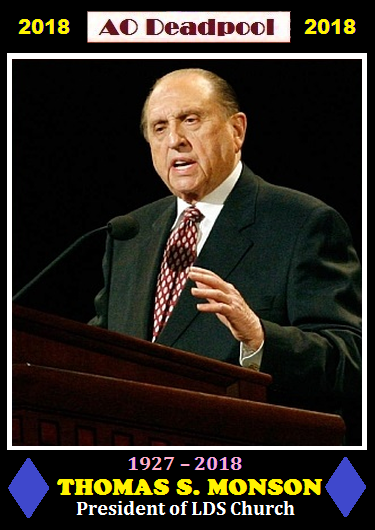 Thomas S. Monson, the 16th President of the

Church of Jesus Christ of Latter-Day Saints

, died on January 2, 2018, at the age of 90 years. The Deseret News, where Monson began his career, and which he rose to be general manager of, described him as a "large, faithful, energetic, gregarious, intelligent man with a prodigious recall that allowed him to memorize talks and remember everyone he met."


Monson became a bishop in the LDS Church at age 22 and president of the faith's Canadian Mission at 31. He was just 36 when he was ordained as a modern apostle of Jesus Christ. (In the LDS Church, apostles are prophets who receive divine revelations. The Quorum of Twelve Apostles is a governing body of the church and selects a successor after the death of the President.) He oversaw church operations in Eastern Europe, including gaining permission for the church to operate in East Germany.


He became President of the LDS Church in 2008, following the death of Ezra Taft Benson (aged 94). The church expanded under his leadership, and he received many honors and accolades, but the most interesting fact about him, in my opinion, is that he also served as

the secretary of the Utah State Roller Club, a group of pigeon breeders

.
--WCGreen
A
ll content (c) 2005-2018 alt.obituaries Deadpool. All rights reserved.