alt.obituaries Memorial Deadpool
est. 2005
Spanky Manikan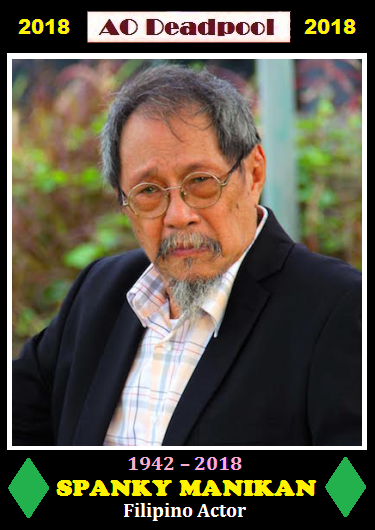 Every time I get a hit in a pool for the very first time, it always gives me a strange feeling. But it's not a bad feeling to have. Some of the times, the hits have been FFBI in other pools, so I do feel a bit of regret, but when it's someone as interesting as Spanky Manikan was, then it is worth more.




Spanky was born on March 22, 1942, in the Philippines. He began his career in acting with the production Halimaw in 1972. He played roles in many productions, including The Caucasian Chalk Circle, Henry IV (Pirandello), and The Iceman Cometh. However, it was Himala in 1981 that garnered him his first major awards, as Best Supporting Actor for his role as Orly, at the Metro Manila Film Festival and the Catholic Mass Media Awards. They wouldn't be his last awards in film, as in 1995 he won Best Supporting Actor for his role in the telemovie Parola at the GMA Network's Bahaghari Awards, and in 2014 he won Best Actor for his role as Zacarius Monzon in Mga Ama Mga Anak at the Aliw Awards.




In 2017, Spanky signed on to play Mr. Jang in the GMA Network adaptation of the Korean drama My Love from the Star. However, he abruptly left the show in July 2017 due to health concerns, and on August 4 of that year, it was announced that he was suffering from stage 4 lung cancer. It was because of this that he passed away on January 14, 2018.




I share a trio hit with the always-competitive Gerard Tierney and Allen Kirshner. Each of us gets 9 points (8 for hit, 1 for trio). As this is my first year competing in this pool, I am excited to see where this takes me to this year, and I hope everyone will have a fun game this year.
--Joey Russ
A
ll content (c) 2005-2018 alt.obituaries Deadpool. All rights reserved.