alt.obituaries Memorial Deadpool
est. 2005
Renate Delfs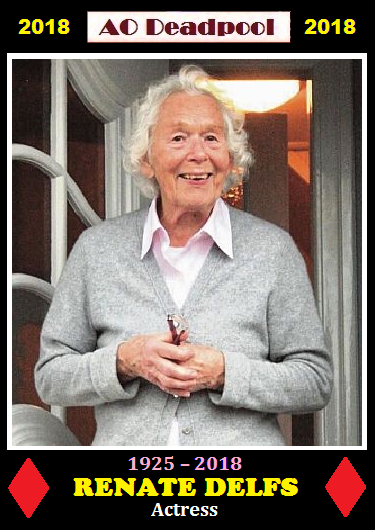 Renate Delfs began her acting career at an age when others become pensioners, and her first acting role was as a grandmother. Born on March 27, 1925, in Flensburg, Delfs started her studies at an acting school in Jena in the 1940s, but never finished them. After just one semester, the Nazis sent her to work for the military. After World War II, instead of going back to school, she got married and became a mother of three, and worked as a manager of tourist information at her home at the fjord. This was her first life.




After her husband's death, when she was in her fifties, Delfs began her second life as an actress, playing some small roles on television. In the 1970s, she appeared as a grandmother or an "old maid" on Nordic-dialect stages. From the 1980s until the mid-2010s, she appeared in several TV films and series, such as Jauche und Levkojen, the family soap Nicht von schlechten Eltern, the crime comedy Adelheid und ihre Morder, the police series Grossstadtrevier, and the doctor's-family series Der Landarzt. Although she never played a leading role, her face was well known to German audiences. This was her second life.




In her third life, she served as an ambassador for northern Germany and her home at the fjord. For the German-language film of Donna Leon's book Drawing Conclusions (Reiches Erbe), Delfs traveled to Venice, but mostly she appeared in films set in her home region. Delfs was also connected to her hometown of Flensburg, which made her its first and only "citizen of honor" in 2015, and to the Petuh language, a mix of German, Lower German, and Danish, which she spoke in her private live. In 2015, she published her autobiography, Nimm mich mit nach Gestern (Take Me with You to Yesterday).
Renate Delfs died on May 14, 2018
,
in Flensburg
,
at the age of 93, giving WEP seven points (
two
for the hit, five for the solo). She is the fifth German
-language
television actress to
earn
points for WEP. Stay tuned
for more
.
.
.

--WEP


A
ll content (c) 2005-2018 alt.obituaries Deadpool. All rights reserved.