alt.obituaries Memorial Deadpool
est. 2005
Mark E. Smith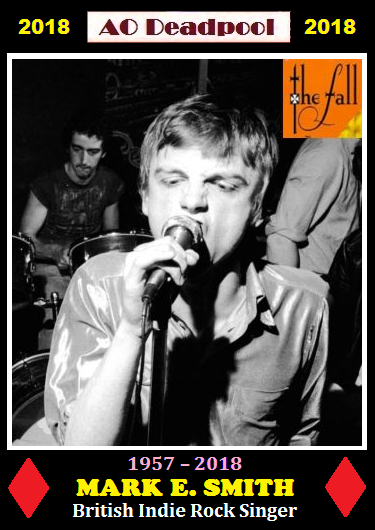 Mark E. Smith was one of the most unique musicians that I have ever heard. There's just so much about him that is anti-mainstream. His controversial behavior in many of his interviews most certainly had an impact on how people viewed him as a person, but it was really his unique vocal style that led many people (including myself) to view him as a visionary in music, not just another jackass with no talent. Much of the time, his voice was oriented more to spoken-word than to actual singing, and while some people whose singing is more spoken-word, such as Lou Reed, are more melodic in their sound, Smith had a certain breathiness in his vocals that mixed in with his spoken word. He often wasn't that understandable due to the sound of his voice, but that doesn't make his work any less enjoyable (at least in my eyes).




Smith formed the Fall in 1976, but by 1979, all of the original members had already left the band, with only Martin Bramah returning for a brief period in the 1990s. The band went through more than 60 members during Smith's lifetime, and about one-third of them played for less than a year, with Smith himself once quoted saying "If it's me and yer granny on bongos, it's the Fall." Some of their major influences included Can, the Velvet Underground, Captain Beefheart, the Monks, and the Stooges. As a result, his albums were very much not for the mainstream, but the Fall still gained fans, and they had a major cult following. Although their music was not for the easy-listening people, there was a period in the late '80s that produced some modest hits, including "Hit the North" and a cover of "Victoria" by the Kinks. Smith released a lot of albums in his lifetime, and because of that—despite a few songs that have gained a cult following, such as "Mountain Energy"—his quality of work generally declined over time.




As for why he appeared on my list, I noticed that he was canceling a lot of gigs last year due to health reasons, as well as his very poor body shape during his final live performances. I mean, he never looked the greatest, but his shape in his final performances looked very alarming, which gave me a big gut feeling that he wouldn't see 2019. I was surprised that I was the only person who went for him. He gave me (Joey Russ) 16 points (11 for hit, 5 for solo). I am doing surprisingly well in my first year of this.
--Joey Russ
A
ll content (c) 2005-2018 alt.obituaries Deadpool. All rights reserved.