alt.obituaries Memorial Deadpool
est. 2005
Zhou Youguang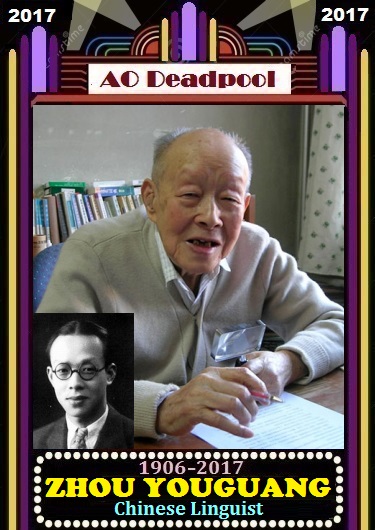 Zhou Youguang was one of the few supercentenarians who were famous for reasons other than their longevity. His main invention, the Pinyin system, a romanization of the Chinese language, earned him eternal honor. With his work, Encyclopedia Zhou—his nickname since the 1980s—helped to fight illiteracy in China, which fell from over 80% to less than 10% since Pinyin was officially adopted.




Zhou was born as Zhou Yaoping on January 13. 1906, in Changzhou, Jiangsu Province, to a Qing Dynasty official. He discovered his interest in linguistics at Changzhou High School, and, thanks to fundraising by friends, he was able to study economics and linguistics at St. John's University in Shanghai, but he left the university following the May Thirtieth Movement in 1925, and graduated from Guanghua University in 1927.


In 1933, Zhou married Zhang Yunhe and the couple moved to Japan. Their two children were born there, and Zhou studied in Tokyo and Kyoto. In 1937, the family returned to China, where Zhou worked for Sin Hua Bank in Chongqing as well as for the National Government's Ministry of Economic Affairs, which appointed him director of the Chinese agricultural policy bureau. After Japan's defeat in World War II, Zhou remained at Sin Hua Bank, leading offices in London and New York. In 1949 he returned to Shanghai, where he taught economics at Fudan University for several years.


In 1955, Zhou was instructed to lead a committee to reform the Chinese language. Over three years, Zhou and his colleagues translated Chinese characters into roman characters representing the pronunciation of the words. Created as a pronunciation guide, the new system was officially adopted in 1958.




After the Cultural Revolution—during which he was sent to live in a labor camp for two years as "re-education"—Zhou remained an important pillar of the Chinese cultural system. In 1976, he promoted the Hanyu Pinyin System as the international standard for the spelling of Chinese at the meeting of the International Organization for Standardization in Warsaw. In 1980, he began to work on a Chinese translation of the Encyclopaedia Britannica, accompanied by two other linguists. He also wrote ten books since 2000, some of which have been banned in China. Zhou had always been a critic of Chinese politics but was too famous to be banned from the country.


Zhou Youguang reached supercentenarian status in 2016, when he celebrated his 110th birthday. He died on January 14, 2017, at his home in Beijing, just one day after his 111th birthday, leaving six points to team WEP (1 for the hit, 5 for the solo).
--WEP
A
ll content (c) 2005-2017 alt.obituaries Deadpool. All rights reserved.