alt.obituaries Memorial Deadpool
est. 2005
Roman Herzog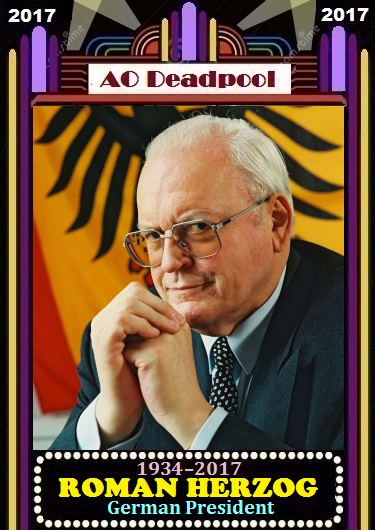 Roman Herzog was a key figure in German politics and law, and his career was incomparable in both fields. He began his legal career as an academic and reached the highest juridical office in Germany. He began his political career as a state-level government secretary, and ended it as German president. He became the only person to hold two of the five highest positions in the German constitution.




Roman Herzog was born on April 5, 1934, in Landshut, Bavaria, to Karl-Theodor Herzog, a historian, and Helene Schulze, a former banker. From 1953 to 1961 he studied law in Munich, and earned his doctorate in law in 1958. During the 1960s, Herzog held several academic positions in Munich and Berlin, where he became Professor and finally Dean at the Free University of Berlin. In 1969, he left Berlin and worked at the German University of Administrative Sciences in Speyer, where he was the Rector from 1971 to 1972.




In 1970, Herzog joined the Christian Democratic Union of Germany (CDU), the largest conservative party of Germany, which was an opposition party at that time. In 1973, he was appointed state secretary of the government in Rhineland-Palatinate by then Minister President Helmut Kohl (another AO Deadpool hit in 2017). In 1978, the Minister President of Baden-Wuerttemberg, Lothar Spaeth, asked Herzog to become Minister for Culture and Sports, and following the Baden-Wuerttemberg state election in 1980, Herzog became a member of parliament and the Minister for the Interior, a position he held until 1983.




Also in 1983, Herzog reached the highest juridical level in Germany: from 1983 to 1994, he was a judge at the Federal Constitutional Court ("Bundesverfassungsgericht"). In 1987, he became president of the court, making Herzog one of the five highest-ranking people in the German constitution (below the presidents of the two parliaments, the chancellor, and the federal president).




This last office became the pinnacle of his political career. In 1994, Herzog surprisingly ran for president of the CDU, after Richard von Weizsaecker was unable to be reelected again. After the main political parties were unable to agree on a president, Herzog was one of five candidates for the position. The first two ballots were close between Herzog and Social Democrat Johannes Rau, but none of the candidates reached an absolute majority. After Liberal Hildegard Hamm-Bruecher resigned for the third ballot, Herzog won the election. (Rau became his successor five years later.)




During his presidency, Herzog became popular as "the admonisher of German conscience." In 1996, he proclaimed and established January 27 as a day of remembrance of the victims of National Socialism. One year later, Herzog gave a controversial speech in Berlin, in which he criticized the national "dejection," a "feeling of paralysis," and even an "unbelievable mental depression" in German politics, society, and economy. One sentence of the "Berlin speech" was especially significant for the time: "A shock must go through Germany" ("Durch Deutschland muss ein Ruck gehen").




Herzog traveled abroad more than 30 times during his term, visiting countries ranging from Nepal, Mongolia, Ethiopia, and the USA to Belgium, Namibia, Hungary, and Israel. The friendship between Israel and Germany was especially important for him, and he urged the Germans several times to remember their historical mandate. In 1997, he was awarded the Charlemagne Prize for his efforts in European conciliation. He was also the first president to live in Bellevue castle, the official residence of the Federal President in Berlin.




In 1999, Herzog declined to run for a second term and moved with his family to Heilbron. After his political career, he served as a noted expert on law and held various positions in political and economic think tanks. His best-known role after his presidency was as the chair of the European convention to prepare a charter of European basic rights. He also publicly criticized Germany's voting system and the European Union's tendency toward centralization.




In 1958, Herzog married Christiane Krauss, who became a role model for the German "First Lady." She chaired several charitable organizations, mainly the "Mukoviszidose e. V. Bundesverband Cystische Fibrose," a foundation to benefit people suffering from cystic fibrosis. Christiane Herzog began to suffer from cancer during her husband's presidency, but refused to be absent from the public eye; on the contrary, she had her own cooking program on TV and wrote several books on cooking. She died in June 2000, one year after her husband left office. The couple had two sons. Herzog remarried in 2001; his second wife, Alexandra Freifrau von Berlichingen, was a friend of the family. The couple remained childless and lived at Jagdshausen castle.




Roman Herzog died on January 10, 2017, in Bad Mergentheim, at the age of 82. He was the first German president to die at an age between 79 and 90, the third German president to die within two years, and the last German president from the 20th century to die. He earned team WEP 10 points (5 for hit + 5 for solo), WEP's second 2017 hit with a former head of state and second-ever hit with a former German president (after Walter Scheel died in 2016).




Ruhe in Frieden.


--WEP
A
ll content (c) 2005-2017 alt.obituaries Deadpool. All rights reserved.