alt.obituaries Memorial Deadpool
est. 2005
Octavio Lepage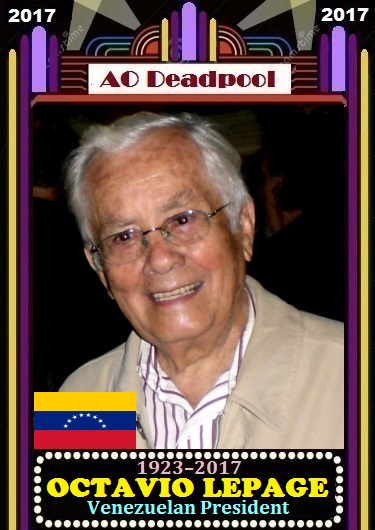 Octavio Lepage Barreto was born on November 24, 1923, in Santa Rosa, Anzoategui, Venezuela. He began his political work while studying law at the Central University of Venezuela, where he became a member of the student movement Accion Democratica (AD). He became Secretary to the Executive Committee of AD in Caracas in 1945. In 1948, he was elected as deputy for the National Congress, representing Anzoategui, and was also elected Secretary General of AD, but never took that position since, following the overthrow of Romulo Gallegos, the Venezuelan military junta suppressed political parties. AD operated clandestinely between 1949 and the late 1950s. During that period, Lepage served as the party's First Secretary and as a member of the Secretariat of Organization. Arrested by the National Security in 1950, he was imprisoned until 1954, when he was expelled from the country and sent into exile. He remained part of the AD organization in exile as well.


After returning to Venezuela in 1959, he served as ambassador to Belgium and rejoined his party's General Secretariat. In 1973, he was elected to the Venezuelan senate for the first time, representing Miranda. He served as Minister for Home Affairs from 1975 to 1978, under President Carlos Andres Perez, and from 1984 to 1986, under President Jaime Lusinchi. Lusinchi promoted Lepage's candidacy for the 1988 presidential election, but Lepage lost a primary election against former president Perez.


Finally, Lepage's career peaked unexpectedly: After the Supreme Court started impeachment proceedings against President Perez over corruption allegations in May 1993, Lepage became acting president of Venezuela for 15 days. Since Perez did not officially resign until August, the senate stripped him of his immunity and named Lepage, who was President of the Congress, as acting head of state. On June 5, 1993, he was succeeded by Ramon Jose Velasquez.


Octavio Lepage died on January 5, 2017, in Caracas, at the age of 93. He scored seven points for WEP (2 for hit, 5 for solo), the second score by a Venezuelan president for this team. Muchas gracias.
--WEP
A
ll content (c) 2005-2017 alt.obituaries Deadpool. All rights reserved.