alt.obituaries Memorial Deadpool
est. 2005
Mauno Koivisto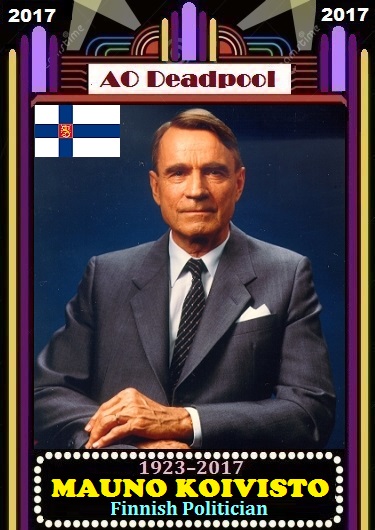 Mauno Koivisto was a leading political figure in Finland during the 1960s and 1970s, becoming the first Social Democratic president and a two-time prime minister. He was also a teacher, sociologist, banker, husband, father, and worldwide representative of his home country.




Mauno Henrik Koivisto was born on Novermber 23, 1923, in Turku, a Swedish-speaking town in the south of Finland, to Hymni Sofia Eskola, who died when he was ten years old, and Juho Koivisto, a shipbuilder. At the age of 16, he joined a field firefighting unit during the Winter War. During the Continuation War, Koivisto served in an infantry detachment. After World War II, he began his political career by joining the Social Democratic Party (SDP). In 1949, he organized

left-wing resistance against a communist uprising that planned to destabilize Prime Minister Karl-August Fagerholm. At the same time, Koivisto worked as a teacher to earn money for his studies at Turku University. He earned a Bachelor of Arts in sociology in 1953 and a doctorate in 1956.




In 1957, Koivisto joined the Finnish Central Bank. He became governor of the Central Bank in 1968 and continued in that role until 1982. His reputation as a financial expert made him a central figure in Finnish politics. In 1966, the Social Democratic prime minister Rafael Paasio appointed him Minister of Finance. After Paasio resigned in 1968, Koivisto was sworn in as prime minister and head of the government, but he lost that position to a nonpartisan in 1970. The Conservative president Urho Kekkonen recognized Koivisto's qualifications and began to see Koivisto as his main rival. Kekkonen supported Koivisto's main opponent within the SDP, Kalevi Sporsa, who led the government four times between 1972 and 1987. Nevertheless, Koivisto became prime minister for a second time in 1979 and briefly stepped in for Kekkonen as acting president in 1981, after Kekkonen's health deteriorated.




Supported by the SDP, Koivisto ran for the presidency in the 1982 elections. He became the first Social Democrat to win, and held office until 1994. During his presidency, he sympathized openly with the Soviet Union, until its collapse. In the early 1990s, he supported Finland's entry to the European Union, which occurred in 1995, one year after his term in office ended. His successor was the eventual Nobel Peace Prize laureate Martti Ahtisaari.




Following his presidency, Koivisto—who used to call journalists "lemmings"—published his autobiography. He also represented his country at some major events abroad, such as the funerals of Danish Queen Mother Ingrid in 2000, British Queen Mother Elizabeth in 2002, and former U.S. President Ronald Reagan in 2004.




Koivisto married Tellervo Kankaanranta in 1951; they had a daughter, Assi Koivisto, in 1957. He died in Helsinki on May 12, 2017, at the age of 93, leaving his wife and daughter, as well as seven points to team WEP (two for the hit, five for the solo)—WEP's third 2017 hit for a former head of state.




Lepaa rauhassa.


--WEP
A
ll content (c) 2005-2017 alt.obituaries Deadpool. All rights reserved.