alt.obituaries Memorial Deadpool
est. 2005
Karl-Otto Apel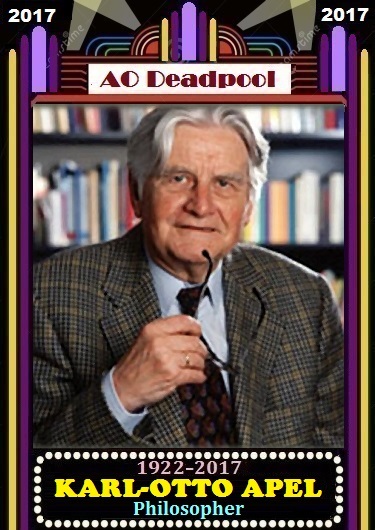 Karl-Otto Apel was a main figure in philosophy for more than three decades and the developer of a distinctive philosophical approach that he called "transcendental pragmatics."


Apel was born on March 15, 1922, in Dusseldorf, which was then part of the Weimar Republic, and grew up during the German economic crisis. In 1940, he and his entire graduating class went to war as volunteers. Following World War II, Apel began to study history at the University of Bonn; later he studied philosophy with Erich Rothacker, receiving his doctorate in 1950.


His first publications, as a student, were in the field of existence philosophy. In the early 1960s, Apel collaborated with Jurgen Habermas in the field of political philosophy, analyzing the works of Karl Marx and his critics. During this period, he started his main work, Transformation of Philosophy, in which he postulated intersubjectivity as a main discovery of Ludwig Wittgenstein and Martin Heidegger. Apel also analyzed student protests, both criticizing and supporting them.


During his academic career, Apel held several positions in different regions of Germany: after being appointed a lecturer at the University of Mainz in 1961, he became a full professor of philosophy at the University of Kiel from 1962 to 1969, at the University of Saarbrucken from 1969 to 1972, and at the University of Frankfurt am Main from 1972 to 1990. After that, he held a number of visiting and guest professorships at universities around the world.


The main fields in Apel's later philosophical work, in which he wrote extensively, were ethics, philosophy of language, and human sciences, bringing together the analytical and continental philosophical traditions, especially pragmatism and the critical theory of the Frankfurt School. One of his main contributions to philosophy was his reformulation of the difference between understanding and explanation. Following Habermas, Apel created "transcendental pragmatics," which claimed to be the only philosophy to have answers to contemporary questions such as "What could we know?" and "What should we do?" This work was controversial in academia during the late 1990s.


Karl-Otto Apel died on May 15, 2017, in Niedernhausen, Hesse, at the age of 95. His last contribution to the philosophical world was seven points (two for the hit and five for the solo) to WEP, who once studied philosophy at the same university as Professor Apel.
--WEP
A
ll content (c) 2005-2017 alt.obituaries Deadpool. All rights reserved.