alt.obituaries Memorial Deadpool
est. 2005
Jerry Perenchio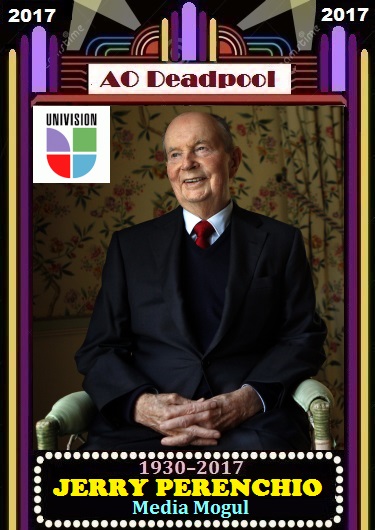 Jerry Perenchio, media mogul and owner of a famous mansion, died on May 23, 2017, of cancer, at age 86. He grew up in Fresno, CA, the grandson of Italian immigrants, and his first media business, started while he was in college, provided entertainment and catering to organizations at UCLA and USC. After college, he joined the Air Force, earning his wings as a single-engine jet fighter pilot, but he also booked bands for the officers' clubs in northern California. The contacts he made in the entertainment industry would serve him well throughout his career.


In 1958, after his discharge, Perenchio went to work for the Music Corporation of America (MCA), becoming its youngest VP and the head of its Concert Department for the western U.S. and the Far East. After the Justice Department broke up MCA for antitrust activities, Perenchio started his own talent agency, Perenchio Artists, in 1963; this became Chartwell Artists through a merger later that decade. Perenchio focused on live entertainment, representing Andy Williams, Jose Feliciano, and the Kingston Trio, among many others. He also brought Elton John to Los Angeles in 1970, launching John's U.S. career.




In the 1970s, Perenchio branched into sports promotion (the Ali-Frazier fight, the King-Riggs "Battle of the Sexes"), television production (in partnership with Norman Lear and Bud Yorkin of Tandem Productions) and movies (Embassy Communications, with Alan Horn). He also brokered business deals such as the sales of Caesars Palace in 1969, A&M Records in 1989, and Motown in 1993. He co-founded ON-TV, the largest broadcast pay television network in the world, in 1977. He also bought the Loews Theater chain and sold it to Tri-Star, the first sale of a theater chain to a studio since the Supreme Court's ruling against such mergers in 1948.




In 1992, he and two partners bought Univision, then built it into a Fortune 500 company. In 1996, Univision went public on the NYSE. Perenchio sold it in 2007 for $13.5 billion.




Perenchio hated to be in the public eye. His charitable contributions to Los Angeles–area arts, education, and healthcare organizations were usually anonymous, but he was responsible for financing the Ronald Reagan UCLA Medical Center, and he made a bequest of 47 works of art, valued at $500 million, to the Los Angeles County Museum of Art, along with $25 million for a building to house them.




As to that famous mansion—it was Bel-Air's Kirkeby Estate, used as the Clampett mansion in the original Beverly Hillbillies TV show, when Perenchio bought it in 1986. After purchase, Perenchio remodeled it to resemble an authentic 18th-century French chateau (and possibly to frustrate tourists).
--WCGreen
A
ll content (c) 2005-2017 alt.obituaries Deadpool. All rights reserved.