alt.obituaries Memorial Deadpool
est. 2005
Hugh Hefner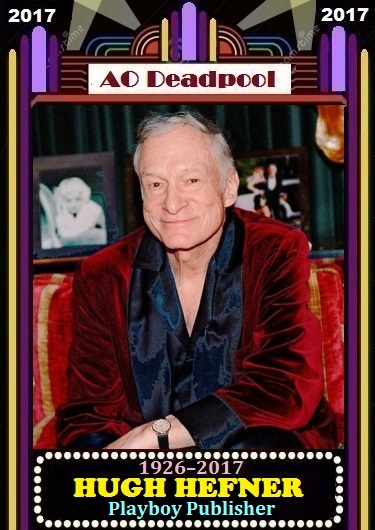 He wanted to call it Stag Party, but that title was already taken. So the magazine he founded in 1953 was called Playboy, and it changed the rules.




Hugh Hefner, who died on September 27, at 91, was the man who made America safe for pornography, many critics and advocates said. To others (including himself) he was the ultimate lifestyle exemplar, a more louche Martha Stewart, and the magazine was was akin to a personal journal.




The editorial mix in Playboy—articles on travel, stereo equipment, fiction by famous authors such as Ian Fleming and Kurt Vonnegut Jr., and especially the nude pictures—constituted "a projection of my own dreams, desires and aspirations," Mr. Hefner told The Wall Street Journal in 1971. Circulation peaked at 7 million in the early 1970s, and Playboy branched out into a short-lived empire of nightclubs, hotels, and casinos where scantily clad "Bunny" waitresses added to the fantasy ambience.




Mr. Hefner claimed that there was plenty of repression in his background. His middle-class parents "were very good people, with high moral standards—but very repressed," he told the Hollywood Reporter in 2011. "There was no hugging and kissing in my home." Yet when, as a former copywriter for Esquire, Mr. Hefner set out to start a new kind of men's magazine, his Methodist mother helped bankroll the project.




The first issue featured Marilyn Monroe—"as famous as Dwight Eisenhower and Dick Tracy," Playboy crowed—in nude photos taken a few years earlier. The magazine flew off shelves at magazine stands.




Wrote Mr. Hefner in the first issue, "We enjoy mixing up cocktails and an hors d'oeuvre or two, putting a little mood music on the phonograph, and inviting a female acquaintance for a quiet discussion on Picasso, Nietzsche, jazz, sex."




Whether or not discussion with female acquaintances was on the menu, ogling them certainly was. And the Playboy man looked pretty good too, thanks to Hef's fashion tips.




"The solution to the world's problems is to get material things to more people—to give everybody the Good Life," Mr. Hefner told The Wall Street Journal in 1971.




The party kept growing at the upstart publication. Mr. Hefner divorced his first wife in 1959 and moved into the first Playboy Mansion, in Chicago.




Soon there was the first Playboy Club, and a Playboy TV show that featured black jazz artists mingling with white musicians—a rarity in those days. By the 1970s, Mr. Hefner was jetting around the country in the Big Bunny, a customized black DC-9.




But mostly he stayed home at the mansion, clad externally in pajamas and working on the magazine in binges fueled by dexedrine and Pepsi. Never much interested in the business side of things, he turned the company over to his daughter, Christie Hefner, in the 1980s. Not until 2011 did he return to rescue what remained, taking the magazine private in a deal valued at $200 million. By then most of Playboy's still-substantial revenue was generated by licensing deals rather than circulation or affiliated businesses.




It has been observed that the models in Playboy didn't change much over the years, mainly top-heavy blondes that Mr. Hefner insisted were the aesthetic equivalent of "the girl next door," albeit without pores. Also unchanging was Mr. Hefner's taste in music (big-band jazz), or in much of anything else.




Weeks at the mansion were tightly regimented. Each night was devoted to a specific amusement: cards one night, backgammon the next. Friday was classic-movie night, when he screened oldies—

Casablanca

was his favorite movie.


A rotating series of official girlfriends moved through the scene. He kept them on salary (except for a 10-year period when he remarried and was, he claimed, faithful to his wife). In later years he became a vocal advocate of Viagra.




But the prophet of libidinal fulfillment could seem melancholy.




"I never found the ultimate soulmate," he told the Hollywood Reporter in 2011. He would lie in death next to Marilyn Monroe, his first centerfold; he had long since purchased a mausoleum next to hers.




Free pornography had long left Playboy in the dust, and the magazine's pictorials—still chosen by Hef until the end—had a retro feel; even its cable channel specialized in a product more smutty than hardcore.




Among Mr. Hefner's regrets was that feminists never really cottoned to his message of personal liberation, despite the voluminous Playboy Philosophy that he cobbled together in the magazine's early days.




Feminists had a point when they claimed that Playboy objectified them, much as it displayed calfskin-lined ice buckets and single-malt Scotch. But Mr. Hefner had a point that the magazine helped lead the fight for personal autonomy in speech, sex, and just about everything else.




'Twas ever thus. Hugh Hefner and his fantastically popular magazine encapsulated many of the struggles and much of the bliss of postwar America, struggling with its newfound freedoms.




"I started a magazine that changed everything," he told Esquire in 2013.
--Obitsman
A
ll content (c) 2005-2017 alt.obituaries Deadpool. All rights reserved.