alt.obituaries Memorial Deadpool
est. 2005
Walter Scheel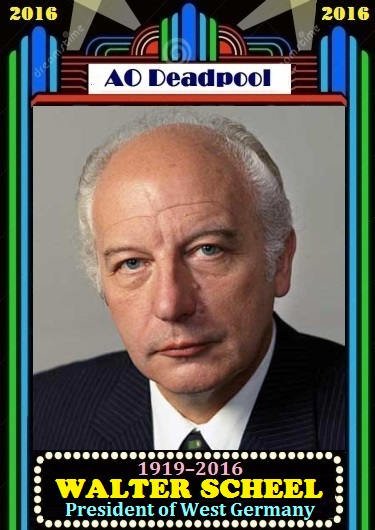 Walter Scheel was one of the main political figures in Germany from the late 1960s to the mid-1980s. He had a short career as an entrepreneur and consultant before serving nearly 25 years in important political positions—as minister, vice chancellor, and finally president—and he was the first head of a main political party who had a song in the top five of the German music charts.


Scheel was born in Hohscheid, which is now part of Solingen in Northrhine-Westfalia, on July 8, 1919. Following his successful traineeship at a bank, he joined the German Luftwaffe (air force) in 1939. After World War II, Scheel worked as president of several industrial firms and confederations, and then as a business consultant in Dusseldorf. In 1958, he became president of the market research bureau Intermarked and founded his own M&A company, Interfinanz, remaining its president until 1961 and selling his shares in 1964.


His business career was short, but as a parliamentarian, Scheel made an impressive ascent. After joining the German liberal party FDP (Free Democratic Party of Germany) in 1946, he was elected to several parliaments: the Solingen City Council (1948–1950), the Landtag of Northrhine-Westfalia (1950–1953), and then the German main parliament, Bundestag (1953–1974), where he was vice president for two years. He also served in the European parliament from 1956 to 1961.


In 1961, Scheel was appointed by federal chancellor Konrad Adenauer as the first minister for economic cooperation and development, a ministry created just for him. Aside from a 24-day period, he held this post until 1966, when he and the other ministers of his party resigned. This resignation caused the end of the chancellorship of Ludwig Erhard, and a "Grand Coalition," consisting of the conservative CDU and the social-democratic SPD, resulted, with Scheel and his liberal party in opposition.


From the beginning of the German Federal Republic's political rearrangement, the liberal FDP and the conservative CDU had formed coalitions due to overlaps between them. In 1969, the federal election produced a tight majority for the SPD and the FDP. As FDP chair, Scheel was one of the main advocates for a switchover of the party's preferred political partner to the SPD.


In 1969, Scheel was appointed Secretary of State and Vice Chancellor. He was one of the main designers of the Detente, the easing of relations between Germany and Poland. While serving in this role, in 1973, he appeared on the television show Drei mal neun, where he presented the folk song "Hoch auf dem gelben Wagen" ("High on the yellow carriage"), together with the Dusseldorf male-voice choir. The record sold more than 300,000 copies, and the song went to number five in the 1974 national music charts. All money earned by sales of the record was donated to an aid agency for disabled people. He performed the song once more, in 2006, for his political successor, Hans-Dietrich Genscher.




After the resignation of chancellor Willy Brandt in 1974, Scheel became the first—and, to this day, only—"acting federal chancellor." From May 7 until May 16, 1974, he was the de facto head of the German government, until Helmut Schmidt was inaugurated. On May 15, he was elected federal president in the Bundesversammlung (the parliamentary summit for the election of the German president), running against Richard von Weizsacker. From July 1, 1974, until June 31, 1979, he served as the fourth president of the Federal Republic of Germany.


Scheel's presidency differed from those of his three predecessors in three ways: he was the first president to have infant children in the presidential palace; he was criticized for his lifestyle and the splendiferous interior of his residence; but he was also more open and optimistic than other presidents. Since the German federal president only has a representative function, Scheel's main work was traveling abroad: for example, to France, Sweden, Mexico, the Cook Islands, and Mauritius. In 1974, when Germany hosted the FIFA football world championship, he presented the World Cup to the German national team.


After his term ended, he became a political pensioner and an advisor to younger politicians, and in 1987 he hosted a television show. The German political records of his lifetime are counted with respect: He was the first politician to be both the acting head of government and an elected head of state at the same time—even if it was for only 24 hours. He was also the first former president to turn 90 (only Richard von Weizsacker also made that mark), as well as the former president with the longest retirement: for 35 years, from 1979 until 2014, he had an office paid for by the presidential bureau. Finally, at 97, he was the longest-lived politician who held a main position in German history.


Walter Scheel was married three times. From 1942 until her death in 1966, he was married to Charlotte Kronenberg, mother of his son Ulrich, and from 1969 to 1985, he was married to Mildred Wirtz, a physician and founder of the German Cancer Centrum. He had a daughter, Andrea-Gwendoline, with Mildred; he adopted a son, Martin, with her; and he treated her daughter Cornelia as his own child. Tragically, Mildred Scheel died of cancer in 1985. In 1988 he married Barbara Wiese, who outlived him.




Scheel died on August 24, 2016, in a nursing home in Bad Kronzingen at the age of 97, after suffering from dementia during the last ten years of his life. His death earned team WEP seven points (two for age, one for solo). WEP takes a minute of silence in remembrance of three former secretaries of state, vice chancellors, and FDP heads who died in 2016. The first, Guido Westerwelle, died on March 15 in Cologne at the age of 54. WEP picked him in 2015 due to his leukemia, but dropped him off the list for 2016 because of a seeming recovery. WEP and Westerwelle met in 2009. The second, Hans-Dietrich Genscher, died on March 31 in Wachtberg-Pech, aged 89. He was never chosen by team WEP, but was always a contender for the short list. They met in 2004. Scheel and WEP never met, but WEP's seven points suggest that he should always keep an eye on successors of veteran politicians.
--WEP
A
ll content (c) 2005-2016 alt.obituaries Deadpool. All rights reserved.