alt.obituaries Memorial Deadpool
est. 2005
Sarah Tait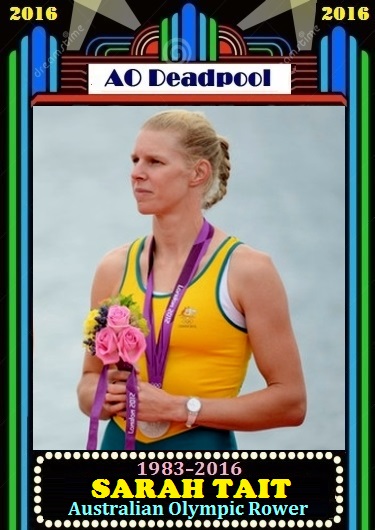 Sarah Tait had a passion and a talent for rowing. By age 21, she was competing in her first Olympics, in Athens in 2004. A controversial ending to those games saw a teammate give up during a race in which Tait participated, but it didn't deter her. She'd be back at it and would qualify for the 2008 Olympics in Beijing. In fact, she captained the Australian rowing team at those games. Still, she came back empty handed. However, she wasn't done with the sport she loved. She pressed on and qualified for the 2012 London games, where she and pairs partner Kate Harnsey captured a silver medal in the women's doubles race. For some, that would've capped off a successful Olympic journey. But she wanted more. Once again, she resumed training, at least at first.




The news was devastating: in 2013, she was diagnosed with cervical cancer. Despite the prognosis, she still had the 2016 Rio games in sight. However, by 2014, she decided to leave the sport she loved, to battle the disease full on. She tweeted about life and the joys of being a wife and a mother of two, until, toward the end of 2015, the tweets stopped. She'd become too weak.




Sarah Tait died on

March 3

at age 33. Allen Kirshner gets 20 points for the hit, 5 for the solo, and a 10-point Daily Double bonus, in combination with the passing of Martin Crowe, also on that day.
--Allen Kirshner
A
ll content (c) 2005-2016 alt.obituaries Deadpool. All rights reserved.