alt.obituaries Memorial Deadpool
est. 2005
Noel Neill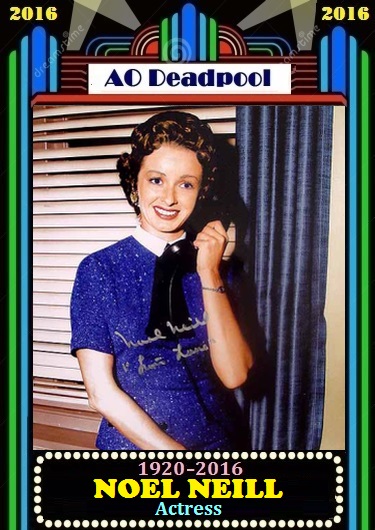 Born in Minneapolis, Noel Neill originally thought of becoming a journalist, like her newspaper-editor father, before she gained fame playing one onscreen. She modeled and sang while in her teens, then wrote for

Women's Wear Daily

before moving into acting and singing.

Soon after moving to Los Angeles, she was hired by Bing Crosby to sing at the racetrack in Del Mar, California, and then signed a contract with Paramount. She appeared in more than 40 films, including

Mad Youth

,

Are These Our Parents?

,

Music Man

, and a series of film and TV Westerns, with directors including Vincente Minnelli, Cecil B. DeMille, and Hal Roach.


Her first appearance as Lois Lane was in the 1948 movie serial

Superman

, with Kirk Alyn, which showed her talent for humor. She then appeared in the sequel,

Atom Man vs. Superman

. The 1950s television series

Adventures of Superman

, starring George Reeves, gave her a longtime role as the intrepid reporter. In 1952, when

Adventures of Superman

was created for television, another actress, Phyllis Coates, was cast as Lois, but after one season, Coates left the show and Neill stepped into the role, where she remained until the series went off the air in 1958. She said later in interviews that she simply played herself. There were plans to bring the show back, but they came to a halt in 1959 with Reeves's mysterious death. On the subject of his death, which was eventually ruled a suicide, she stated, "I am not aware of anyone who wanted George dead. I never said I thought George was murdered. I just don't know what happened. All I know is that George always seemed happy to me, and I saw him two days before he died and he was still happy then."


Neill retired after the

Adventures of Superman

TV series ended in 1958, but was a familiar face at conventions and signings, and returned for small roles in later Superman films. She played Lois Lane's mother in the 1978 Christopher Reeve

Superman

and was featured in the

Superboy

TV series, and in the 2006 Brandon Routh–starrer

Superman Returns

, she played Gertrude Vanderworth, the old broad who leaves her fortune to Lex Luthor. Eventually she went into public relations, working in the United Artists television department, where one of her assignments was handling Tom Selleck's fan mail.


In the end, not even Superman could prevent the advancement of time. Ms. Neill lived out her remaining years in her own Fortress of Solitude, located in Tucson, Arizona. She died there on July 3, 2016, at the age of 95.


Two Kryptonic points each to B&T's Characters, Bill Schenley, Eternity Tours, and Moldy Oldies.
--Eternity Tours
A
ll content (c) 2005-2016 alt.obituaries Deadpool. All rights reserved.