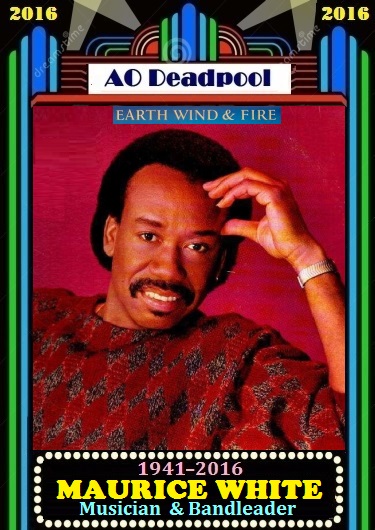 The seventies were a time of what is now classic and prog rock, singer-songwriters, and the movement from R&B to disco. I did not like disco; it seemed too formulated and artificial and not popular among my peer group on Long Island, where every boy received a copy of Led Zeppelin IV on his 16th birthday.
Earth, Wind & Fire were not disco. These were guys putting down some great grooves with real instruments, and their horn section was killer. The man who wrote the songs and guided the group was Maurice White. The group had so many hits, so many great songs.
Up until a couple of years ago, I was unaware of White's contribution to the Chicago music scene in the 1960s, and I was pleasantly shocked to learn that he played the drums on Fontella Bass's "Rescue Me." There's a career alone in those beats.
It was sad to read of his Parkinson's, which robbed him of being able to perform with the group for over two decades. He continued to do some work in the studio, but he lost his battle with the cruel disease. White was one of the good ones. He'd been in my pool for several years and I'm sad that he's off my list now.
--Chaptal
A
ll content (c) 2005-2016 alt.obituaries Deadpool. All rights reserved.