alt.obituaries Memorial Deadpool
est. 2005
Martin Crowe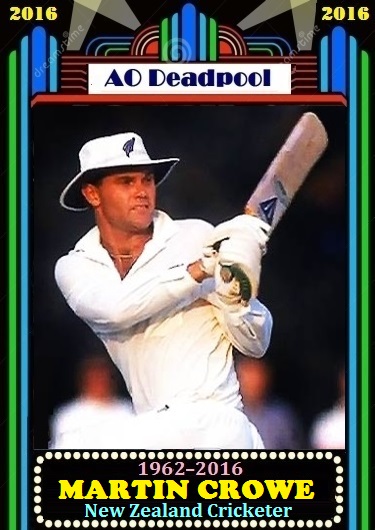 Martin Crowe was born on September 22, 1962. At the age of 6, he joined his father, Dave, and his brother, Jeff, at the Cornwall Cricket Club in Auckland. In his teens, he attended Auckland Grammar School with Jeff and their cousin, Russell. Russell went off to Australia and Hollywood, leaving Jeff and Martin to concentrate on their careers in cricket.




Martin made his first-class debut for Auckland at the age of 17, scoring 51 in his first innings. In 1981, in the New Zealand winter, he was given the chance to join the Marylebone Cricket Club ground staff at Lord's, giving him six months of playing cricket with top-class coaching, as well as the more menial duties of selling scorecards and pulling the covers on when rain stopped play at cricket's headquarters (these days, the ground staff have the grander title of MCC Young Cricketers).




He began his international career in February 1982, playing his first one-day international against Australia and, later in the month, his first Test match, also against Australia. He became captain of New Zealand in 1990, until a succession of injuries ended his career in 1993. He had scored more than 10,000 runs in all international cricket, with a batting average of 45.36 from his 77 Test matches (anything over 40 is respectable).
His highest Test score of 299, made against Sri Lanka in 1991, stood as a New Zealand record until 2014, when Brendon McCullum hit 302 against India.




Martin Crowe is widely regarded as New Zealand's greatest batsman, although McCullum, who has recently retired from Test cricket to concentrate on the one-day game, must now be running him close for that accolade.




Crowe was diagnosed with lymphoma in 2012. After a period of remission, the cancer returned in 2014, and he died on March 3, 2016, aged 53.




Allen Kirshner, Allezblancs, CancerousHatred, Deceased Hose, Ed V, Gerard Tierney, Jefferson Survives, Keister Button, and WEP took the wicket of Martin Crowe for 14.
--Allezblancs
A
ll content (c) 2005-2016 alt.obituaries Deadpool. All rights reserved.