alt.obituaries Memorial Deadpool
est. 2005
Madeleine Sherwood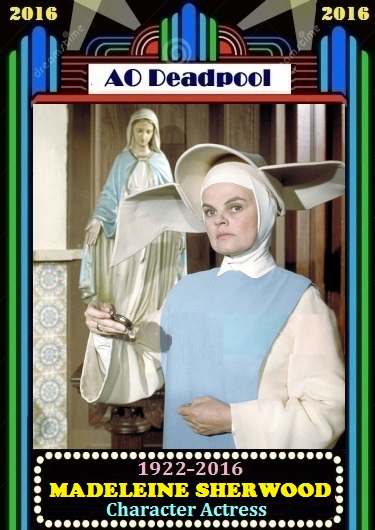 Madeleine Sherwood made her first stage appearance at the age of four in a church passion play in her hometown of Montreal, Quebec, Canada. She started her professional career in Montreal, when she was in Canadian Broadcasting Company dramas and soap operas. An unhappy early marriage and postpartum depression landed her in an asylum, and she said her husband wanted her lobotomized. She told a friendly doctor that she simply wanted to be an actress, and he recommended that she make an escape out the unlocked back door.
That escape route eventually led her to New York City, where she studied under legendary acting coach Lee Strasberg at the Actors' Studio. She made her Broadway debut in 1952 in

The Chase

, and originated the role of the accuser Abigail Williams in Arthur Miller's

The Crucible

. Sherwood herself was blacklisted during this time, making the play (which uses the Salem witch trials as an allegory for the McCarthy hearings) particularly personal. She was also in the original Elia Kazan–directed Broadway production of Tennessee Williams's

Cat on a Hot Tin Roof

, playing Mae, and reprised the role in the 1958 film adaptation. She played a key role in the 1959 Broadway and 1962 film adaptations of Williams's

Sweet Bird of Youth

, as mistress of the malevolent Gulf Coast power broker Boss Finley.With such an illustrious Broadway background, how terribly frustrating it must have been to know that the role she would be best remembered for was playing the Mother Superior on the campy Sally Field sitcom

The Flying Nun

. She also became a veteran of the soaps, appearing, through the years, on

One Life to Live

,

Guiding Light

, and

As the World Turns

.
Ms. Sherwood was the longtime companion of the late Hylan Johnson, an actor best remembered as a black American soldier in Roberto Rossellini's 1946 film

Paisan

. She grew involved in civil rights causes and in May 1963 was arrested during a Freedom Walk in Alabama. She was sentenced to six months of hard labor, but her lawyer, Fred D. Gray, said in an interview that the decision was "ultimately reversed" on appeal. In the 1970s, she became an activist for women's rights.
She never gave up her Canadian citizenship and returned to Canada in the early 1990s. She died at 93 at her childhood home in Saint-Hippolyte, Quebec, about 50 miles northwest of Montreal, on April 23, 2016.
--Eternity Tours
A
ll content (c) 2005-2016 alt.obituaries Deadpool. All rights reserved.