alt.obituaries Memorial Deadpool
est. 2005
Kay Starr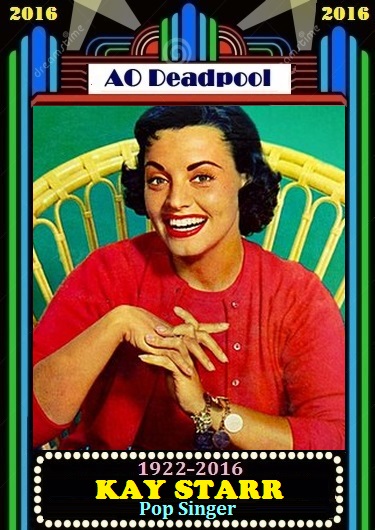 At age seven, Katherine Starks would hurry home from school to sing to the family chickens. By age 10, she was on the radio in Dallas; then to Memphis, where she changed her name to Kay Starr.


In 1937 and '38, she spent her summers with Joe Venuti's Orchestra. 1939 brought her a brief run with Glenn Miller's band as a sub for Marian Hutton.


Moving on, in 1947, she signed a long-term contract with Capitol. During the next eight years, she had her biggest hit, "Wheel of Fortune"; duets with Tennessee Ernie Ford; and the first vocal version of "Bonaparte's Retreat."


When she moved to RCA in 1955, she was the first woman to top the charts with a rock and roll song, "The Rock and Roll Waltz." She would continue to record and tour into the 2000s.


Busgal, Go the Distance, Pearly Gates, and Stiff Competition spun the Wheel of Fortune for 2 points each.
--Busgal
A
ll content (c) 2005-2016 alt.obituaries Deadpool. All rights reserved.