alt.obituaries Memorial Deadpool
est. 2005
Johan Cruyff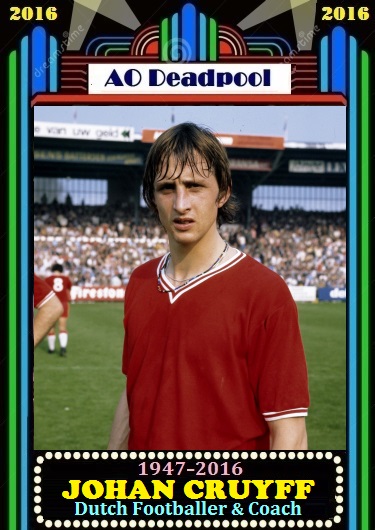 Johan Cruyff was known as "Europe's footballer of the century," and was indisputably the best Dutch football player in history and maybe the most influential coach in European football.




He was born Hendrik Johannes Cruijff on April 25, 1947, in Amsterdam. His father Cornelis was a greengrocer in Betondorp, the eastern part of Amsterdam, just a few meters from the stadium, where Ajax Amsterdam played their home games. Maybe as a result, Johan began to play football as a trainee at the age of twelve.




After his father's death in 1959, his mother worked as a charwoman for Ajax Amsterdam, and Johan began to think of earning money playing football. On November 15, 1964, he made his debut in the Eredivisie, the Dutch first-division football league, scoring the only goal for Ajax Amsterdam in its 1–3 defeat against Groningen. In 1965, he became a professional football player, earning 120 gulden per month. From then until 1973, and again from 1981 to 1983, he played for Ajax Amsterdam, scoring 204 goals in 276 matches. The team won the national championship nine times, the national cup six times, and the European Cup (known today as the Champions league) three times. Cruyff himself was honored as "Scorer of the Year" twice and as Europe's footballer of the year three times, the last time while playing for FC Barcelona in Spain, where he scored 48 goals in 143 matches. Besides his work on league teams, Cruyff also played 48 matches for the Dutch national team, scoring 33 goals, between 1966 and 1977. His most noteworthy game was in 1974, when "Oranje" was defeated 2–1 by Germany during the FIFA World Cup final in Munich. He also had a short career in the U.S. for the Los Angeles Aztecs and the Washington Diplomats, and after playing one final season for Feyenoord Rotterdam, he retired from his active career in 1984.




In 1985, Cruyff started his second career as a coach. He first coached for Ajax Amsterdam, who won the national cup twice; then he returned to FC Barcelona in 1988, where he managed to earn the team the national championship four times in a row and the European Cup in 1992. He remained coach there until 1996. From 2009 to 2013, he sat on the coach's bench for the new and officially unrecognized Catalan national team.




Besides his sporting career, Cruyff was known as an advisor to sports officials; he also supported young talents like Pep Guardiola or Albert Ferrer, and he had a foundation for young footballers in Barcelona. He was married for nearly 50 years and had three children. His son Jordi was a footballer as well and is now a coach for Maccabi Tel Aviv in Israel.




Cruyff's final match against diseases ended unsuccessfully. A chain-smoker, he suffered his first coronary in 1992 and had been treated for lung cancer since 2015. He succumbed to the disease on March 24, 2016, at his home in Barcelona. His number as a player was 14, but his death at 68 earned Allen Kirshner, Allezblancs, and WEP only 12 points (11 for hit + 1 for trio). Final score for the goal guarantor.
--WEP
A
ll content (c) 2005-2016 alt.obituaries Deadpool. All rights reserved.