alt.obituaries Memorial Deadpool
est. 2005
Imre Kertesz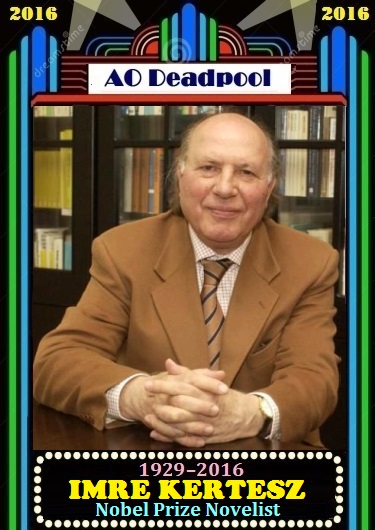 Imre Kertesz was the most famous writer in the Hungarian language and an important critic of Hungarian politics.


Kertesz was born on November 9, 1929, in Budapest, into a Jewish family. His ancestry and the Nazis' takeover of Austro-Hungary sent the young Imre into several concentration camps. In 1944, at the age of 14, he was deported to Auschwitz; he was later sent to Buchenwald and finally ended up in Wille, where he was freed by the Allies in 1945.


After finishing school, Kertesz worked as a journalist for the Hungarian newspaper Világosság, which was declared an illegal "Communistic party organ" in 1950. He served in the military and then began work as a freelance journalist, author, and translator, mainly writing lyrics for musicals and translating the works of German-speaking authors such as Friedrich Nietzsche, Joseph Roth, Sigmund Freud, and Elias Canetti. Following the Hungarian Revolution in 1956, his work was restricted by the government, which he was highly critical of.


In 1972, Kertesz finished his novel Sorstalanság ("Fatelessness"), based on his experiences in the Nazi concentration camps. This book is known as an important publication about daily life during the Holocaust and was the main basis for his Nobel Prize. Kertesz wrote several other works in prose, including essays as well as novels; his last novel was published in 2014.


After the fall of Hungary's Communist government in the late 1980s, censorship was eased, and Kertesz's works became public and were read internationally. In 2002, he became the first—and, as of now, the only—writer in the Hungarian language to receive the Nobel Prize in Literature.




In 2001, Kertesz moved to Berlin, but after being diagnosed with Parkinson's disease in November 2012, he returned to Budapest. Shortly before his relocation, he bequeathed his works to the Academy of Arts in Berlin, a strong symbol of forgiveness of the German nation.
Imre Kertesz died on March 31, 2016, of Parkinson's disease in Budapest at the age of 86, earning TGV and WEP 8 points (five for age, three for duet). He was WEP's second Nobel-laureate pick to die in 2016. A third one is waiting . . .
--WEP
A
ll content (c) 2005-2016 alt.obituaries Deadpool. All rights reserved.