alt.obituaries Memorial Deadpool
est. 2005
Hendrikje Fitz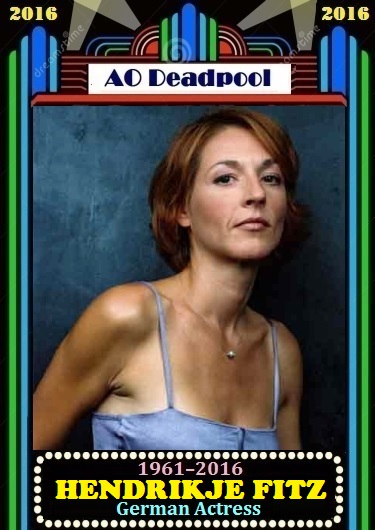 Hendrikje Fitz first achieved recognition onstage, but she became known across Germany for a single role in a weekly television soap opera, which she played for 18 years.


She was born on September 15, 1961, in Frankfurt am Main, into an acting family: her father Peter and her brother Florian were actors as well. At the age of 20, Hendrikje began to act onstage at the Freie Volksbühne Berlin. After completing an apprenticeship in acting and singing, she performed throughout Germany, including work for the touring theater Neue Schaubühne.


She became known to the broader public for her role as Pia Heilmann in the television soap In aller Freundschaft ("In all friendliness"), a weekly series about the staff of a fictional hospital in Saxony. Starting in 1998, Fitz played the wife of the physician Roland Heilmann. Pia is a kind, cooperative, and self-reliant woman, known as the warm center of her family. Later in the show's run, Pia works as a physiotherapist in her husband's clinic, increasing her importance to the series. Like many families in serials, the Heilmanns live with seniors and children who aren't related to them. Most episodes of the show are about one-time characters admitted to the hospital, but the Heilmann family always appears in some way.




Besides her work for the soap, Fitz had some smaller appearances on television, mainly episode roles in crime series or medical-drama series. In 2015, she appeared in the documentary series Das perfekte Promi Dinner ("The perfect celebrity dinner"). While working on this program, she was informed about her second affliction. In 2014, she had been diagnosed with breast cancer for the first time. Surgery and chemotherapy seemed to be successful, but after one year the cancer returned, and her chances of survival were slight. She did not stop working and said in an interview that her work gave her energy to withstand the disease. Although her diagnosis was terminal, her character was not written out of the series: Pia Heilmann went to Spain to have a timeout from the clinic and the family.


Her timeout will now last forever. Hendrikje Fitz died on April 7, 2016, in Berlin, at the age of 54. WEP, who scores 19 points (14 for age, 5 for solo), is now in a series as well, scoring points for a German television actress for the second year in a row.
--WEP
A
ll content (c) 2005-2016 alt.obituaries Deadpool. All rights reserved.