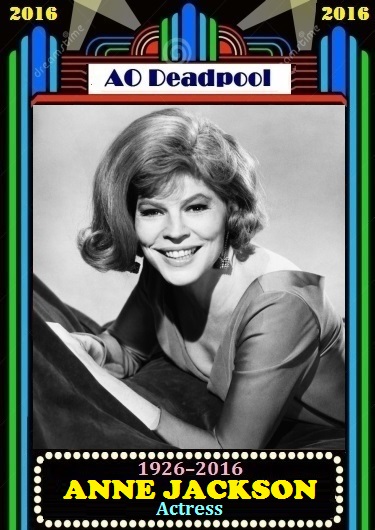 Sixty-six years. Can you imagine that? Two actors, for hell's sake, who
loved strongly for that long until one died at age 99? No
rumors. No gossip. We saw them cling together as young ones
and hold on to each other in old age.


Anne Jackson, the wife in that miraculous coupling, was working at
age 84. In smaller roles, aged, many didn't recognize her as the sexy
redhead who held her own against the biggest in the business in
1960s-era box-office hits about marriage, sex, adultery, and chicanery.
The titles tell the tale: The Secret Life of an American Wife
,
How to Save a Marriage and Ruin Your Life
,
Zig Zag
.
But those roles came after she'd already established herself as
a versatile stage actress, gaining both a Tony and an Obie for
her craft.


Rather than subject herself to plastic surgery in a losing effort
to stay young and sexy, she used her age to play roles that other
actresses would have rejected: Golda Meir and Bella Abzug.
She appeared as the guest star in countless TV series, from
Gunsmoke
and Marcus Welby to ER and Law and Order.


You can find her on IMDB here
.
She was always worth watching.


Anne Jackson was born in Millvale, Pennsylvania, on September 3,
1926, the daughter of John (formerly Jchekovitch) Jackson and
his wife Stella (nee Murray).
She married Eli Wallach when she was 23 years old, in 1948.
Eli died on June 24, 2014. Anne followed him on April 12, 2016.
--Koko-Moxie
A
ll content (c) 2005-2016 alt.obituaries Deadpool. All rights reserved.