alt.obituaries Memorial Deadpool
est. 2005
Yutaka Katayama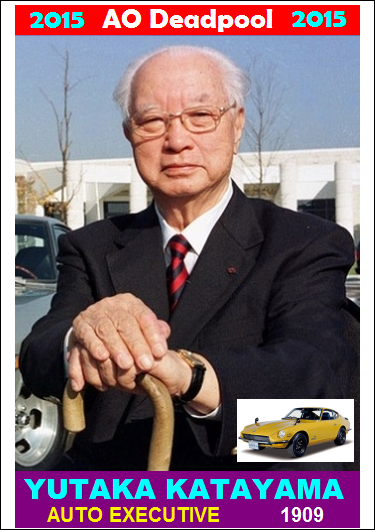 Yutaka Katayama, known as Mr. K, was a Japanese automobile executive employed by Nissan. He expanded Nissan's focus from economy vehicles toward sportier vehicles.


Born as Yutaka Asoh on September 15, 1909 in Hamamatsu, as second of four children of a business family, he attended school in Saitama prefecture, after falling ill with malaria in Taiwan. During his time at Keio University, he worked as a clerk on the ship

London Maru

. In 1935, he married Masako Katayama and took her name.


In 1939, Katayama was ordered to a Nissan plant in Manchuku, a Japanese-occupied area in China, but he managed to be transferred back to Japan. His refusal to return to Manchuku in 1945 was one of his life-saving decisions, he later claimed. After the Nissan Motor Corporation was incorporated in the U.S. in 1960, Katayama was named Vice President, based in the U.S. and responsible for the Western Division. He later became the second president of the company, and the first to be located in the U.S.


During Katayama's presidency, Nissan developed new sport vehicles for the U.S. market—for example, the Datsun 240Z and the Datsun 510. In 1977, he resigned as president but remained active for Nissan. He was inducted into the Automotive Hall of Fame in 1998 and into the Japan Automotive Hall of Fame in 2000.


Katayama died at the remarkable age of 105 on February 19, 2015, in a hospital in Tokyo. He is survived by his wife; two sons, one of whom is an Olympic bronze medalist in soccer; two daughters; eleven grandchildren; and 18 great-grandchildren.


He also had an interesting career on WEP's AO Deadpool list. After being on WEP's first list in 2012, he dropped off the list for two years, for no logical reason, and returned for 2015, bringing WEP 6 points (1 for age, 5 for solo).
--WEP
A
ll content (c) 2005-2015 alt.obituaries Deadpool. All rights reserved.