alt.obituaries Memorial Deadpool
est. 2005
Sam Simon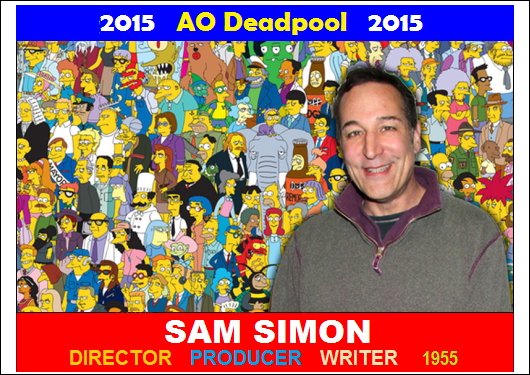 Though he was perhaps the least known of the three producers whose names flash on the screen before each episode of

The Simpsons

, Sam Simon had a crucial influence in molding the show in its early days.




Mr. Simon was in his early 30s when

The Simpsons

kicked off its record-setting run—now more than 500 episodes—as, according to

Time

magazine, the "Best Show of the 20th Century." He was by then already an experienced producer, a veteran writer and show runner for

Taxi

,

Cheers

, and several other shows.




Mr. Simon died on Sunday, March 8, at 59, after a very public bout with colon cancer, during which he gave any number of career retrospectives and laid out his plans to leave his fortune to charity. Stray dogs and endangered marine creatures will be the beneficiaries of the untold millions he leaves behind.




Mr. Simon lived in luxury because he negotiated an exit deal that gave him residual payments not only on the first four seasons of

The Simpsons

—the ones he worked on—but on all subsequent seasons as well. He retired in 1993, and his income from the show in recent decades has been estimated at $10–$20 million annually.




For the two decades since then, he pursued myriad passions. He played and hosted poker tournaments, collected art by Thomas Hart Benton and John Singer Sargent, married and divorced a

Playboy

centerfold.




He dabbled in work with Drew Carey, George Carlin, and Howard Stern as well, and he managed a boxer.




Simpsons

veteran Conan O'Brien credited Mr. Simon for adding humanity to the characters on

The Simpsons

, but also for nurturing the show's voice, a mixture of sarcasm and sweetness.




It was Mr. Simon who assembled the original writing team, and many say he was the show's most important architect, the one who fleshed out cartoonist Matt Groening's simple one-minute inserts, which originated on the Tracey Ullman show, into richly plotted half-hour episodes.




For instance, Mr. Groening came up with Krusty the Clown, who grew into one of the show's best-developed characters. But it was Mr. Simon who made him a corrupt, chain-smoking showbiz hack.




When

The Simpsons

was scheduled opposite the wildly popular

Cosby Show

, Mr. Simon invented Dr. Hibbert, an idiot doctor in a Cosby sweater who is always giggling. "This was

The Simpsons

' sort of like fastball over the plate at Bill Cosby," one

Simpsons

writer recalled.




Mr. Simon left the show after repeatedly clashing with Mr. Groening, in part because Mr. Groening was getting the lion's share of credit for writing the show. Mr. Groening once called Mr. Simon "one of the smartest writers I've ever worked with, although unpleasant and mentally unbalanced."




But the writers Mr. Simon assembled stayed with the show for years, as did the basic structure he developed.




The Simpsons

helped spark a revival in prime-time animation at Fox and elsewhere, and its comedic influence can be seen on other shows as well as in the culture in general. Homer Simpson's "d'oh" is in the Merriam-Webster dictionary, an interjection.




"Homer is now the prototype for every male lead on a comedy show," Mr. Simon told the Stanford alumni magazine in 2009. "It's a good lesson, isn't it? If you do something trying to make your friends laugh and that you can be proud of, you can also be successful."
--Obitsman
A
ll content (c) 2005-2015 alt.obituaries Deadpool. All rights reserved.