alt.obituaries Memorial Deadpool
est. 2005
Sam Andrew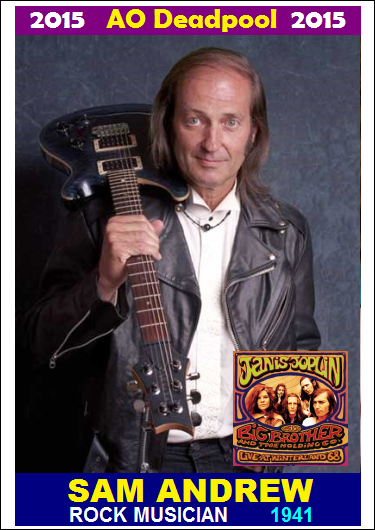 Sam Andrew was influenced by Bo Diddley, Chuck Berry, and Little Richard; worked as a guitarist, singer-songwriter, composer, artist, and musical director; and was called "the Benny Goodman of Japan" in his youth, but his main credit was his time in Big Brother and the Holding Company with Janis Joplin.


Born as Sam Houston Andrew III on December 18, 1941, in Taft, California, he had his first band, called Cool Notes, at the age of seventeen. At the time, Andrew lived on Okinawa, Japan, and appeared on his own weekly TV show. After graduating from high school, Andrew moved with his family to California, where he attended classes at the University of San Francisco and became involved in the folk music scene.


Andrew met Peter Albin during a two-year stay in Europe. Shortly after that, he began to write songs for Big Brother and the Holding Company, which Albin and Andrew established in 1965. His compositions "Call on Me" and "Combination of the Two" became classics. In 1966, the band manager recruited Janis Joplin, followed by a contract with Columbia Records. In 1968, both Andrew and Joplin left the band to form the Kozmic Blues Band. Nine months later, Andrew returned to Big Brother.


Andrew's guitar work was honored several times. In 1997 he was listed, together with James Gurley, as playing one of the top ten psychedelic solos in music history, for their work on "Summertime." He continued as musical director for Big Brother and the Holding Company until early 2015, as well as performing in his solo project, the Sam Andrew Band, started in the 1990s. He was also the musical director of

Love, Janis

, a musical based on Janis Joplin's life. In 2009, Andrew performed at the 40th Anniversary of Woodstock Concert.


Sam Andrew died on February 12, 2015, in San Francisco, California, of complications from open-heart surgery due to a heart attack suffered ten weeks prior. Team WEP earns 13 points (8 for the hit, 5 for the solo) and has to admit that the decision was right to pick Andrew, instead of Little Jimmy Dickens, as a replacement in late December.

--WEP


A
ll content (c) 2005-2015 alt.obituaries Deadpool. All rights reserved.