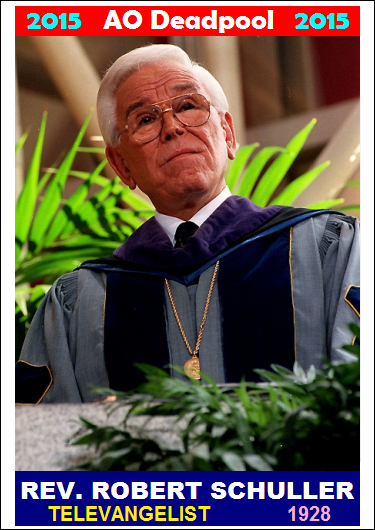 Robert Schuller, whose Southern California–based Crystal Cathedral Ministry reached millions through his
Hour of Power
TV show, has died. He was 88 and had been diagnosed with terminal esophageal cancer in 2013.
Mr. Schuller liked to call himself a "retailer of religion" and his glittering glass church a "shopping center for Jesus Christ." At its height in the 1980s,
Hour of Power
attracted millions of viewers and $30 million in annual donations.
Starting from a drive-in movie parking lot where he preached to the faithful in their cars from the roof of the snack bar, Mr. Schuller built up a 10,000-member congregation who attended what he advertised as "The World's First Walk-In Drive-In Church."
"He took Madison Avenue techniques and applied them to the church," said Michael Nason, who joined the church in 1972 as a marketer and stayed on to become producer of
Hour of Power
.
Mr. Schuller preached "possibility thinking," a message of hope and personal growth that was similar to that of his mentor Norman Vincent Peale, author of
The Power of Positive Thinking
. Mr. Peale helped kick off Mr. Schuller's ministry at Garden Grove, Calif., in 1955.
Sunny optimism was a good fit in southern California, where growth was explosive with industry and suburban sprawl spreading along the highways. At Sunday services nearly 3,000 people could sit in the Cathedral while many more listened over the radio from cars parked outside.
Mr. Schuller pointed to the church's success as a sign of God's favor.
"I am a real believer in God," Mr. Schuller told the
Saturday Evening Post
in 2001. "I couldn't have done this alone."
He also had help from Billy Graham, the evangelist who early on inspired Mr. Schuller during a campus crusade and years later suggested the name for
Hour of Power
, based on his own
Hour of Decision
. The show bought what Mr. Nason called "ghetto time" on Sunday mornings on TV stations around the country, financing the buys from donations they generated.
Mr. Schuller had critics, among them Protestant clergy who claimed that he paid little attention to central Christian dogmas of sin and salvation. His sermons were meant to inspire his listeners, "to give them a lift," he said.
"Bob doesn't care about raking up the past," his wife, Arvella, told the
Los Angeles Times
in 1976. She had a central role in the development of the church, helped produce
Hour of Power
, and was the one who suggested Philip Johnson as architect of the Crystal Cathedral, among the largest glass buildings in the world.
For decades the church put on Christmas and Easter spectacles there, featuring Hollywood-grade casts and sets, plus live animals. The church complex was an architectural showplace, with other buildings by Richard Neutra and Richard Meier.
Its campus, with statues of Jesus, fountains and waterfalls, and the 14-floor Tower of Hope surmounted by a 90-foot neon cross, became a tourist destination along with nearby Disneyland.
Robert Schuller was a native of Sioux County, Iowa, and grew up practicing his parents' austere Dutch Reform religion. He was ordained in that faith by the Western Theological Seminary in Holland, Mich. He arrived in Garden Grove in 1955 with $500 in his pocket, rented a drive-in for $10, and went door to door inviting locals to "come as you are, in your family car."
Crystal Cathedral Ministries became one of the first megachurches, pioneering outreach ministries to singles, a counseling and suicide-prevention hotline, and social services including child care. Mr. Schuller's seminars helped guide emerging megachurches around the country. His five-point formula for success: "Accessibility, service, visibility, possibility thinking, and excess parking."
Whether because of changes in demographics, economics, or spiritual fashion, by the 2000s Mr. Schuller's creation began to lose its resonance. The crowds dwindled; the 10,000 windowpanes at the Crystal Cathedral began to leak for want of maintenance; and Mr. Schuller's own family fell to feuding over who would succeed him.
Hour of Power
is now produced with Mr. Schuller's grandson, Bobby Schuller, as pastor.
In 2010, the ministry declared bankruptcy with debts of $55 million. The Cathedral was sold to the Catholic Diocese, who announced that it would make it an actual consecrated cathedral for Orange County's burgeoning population of Catholics.
--Obitsman
A
ll content (c) 2005-2015 alt.obituaries Deadpool. All rights reserved.