alt.obituaries Memorial Deadpool
est. 2005
Richie Benaud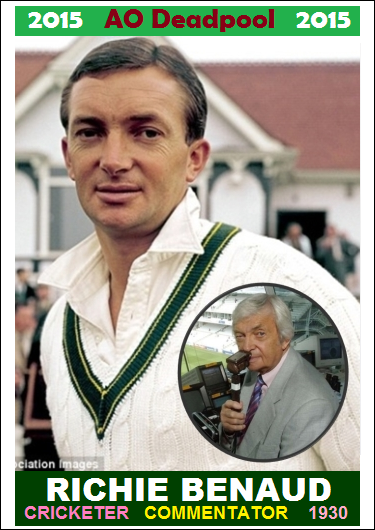 Richie Benaud reckoned that he had been present at more Test matches than anyone else in the history of cricket: first as a young spectator, then the 63 matches he played, followed by a 52-year career in broadcasting. In all, he had been at more than 500 Tests.




He came from a family of Huguenot descent, hence the French surname. His father, Louis, was a leg-spin bowler who played for Penrith and then Cumberland in the Sydney Grade league. Louis imparted the dark arts of spin bowling to his son, Richie, who made his own Grade cricket debut for Cumberland at the age of 16.




Benaud's mother, Irene, had instilled a healthy lifestyle into young Richie, forbidding him to go outside and play cricket with his mates until he had eaten all of his vegetables. Irene lived to be 104, dying in 2008.




Richie made his first class debut at age 18, in January 1948, playing for New South Wales against Queensland at the Sydney Cricket Ground. Opportunities were limited for him that season, as Australia had no Test matches and all of the international players were available for selection for their State sides. Benaud continued in the NSW second eleven, but his season came to an abrupt end when he was hit on the head by a ball from Victorian bowler Jack Daniel and suffered a fractured skull.




Benaud worked his way back onto the New South Wales first team and, by the 1950–51 season, he was in contention for a call-up to the Australian Test team. Unluckily, his thumb was broken during a trial match, and he had to wait until January 1952 for his Test debut, which came against West Indies at Sydney. He could have had the wicket of the famous West Indies batsman, Everton Weekes, in his first over as a Test match bowler, but the Australian wicketkeeper dropped the catch.




His bowling and batting gradually improved over the next few years, and his talents flourished during the 1958–59 tour of South Africa. Australia won the five-match series 3–0 (with two draws), with Benaud scoring 329 runs (including two centuries) and taking 30 wickets.




The following summer, Benaud was appointed captain of Australia and led his team to a 4–0 defeat of England in the Ashes series. This was followed by successful tours to India and Pakistan and another Ashes victory in England in 1961.




England's 1962–63 tour to Australia ended controversially when, with the series tied at 1–1, Benaud allowed the final Test to be played out as a draw so that Australia retained the Ashes. He was criticised at home for not going for the win, even though that would also have risked defeat.




At the start of the 1963–64 season, Benaud announced that it would be his last. As fate would have it, he was injured after the first Test against South Africa and lost the captaincy to Bob Simpson. He returned to the side later in the series, but requested that Simpson remain as captain.




Benaud never lost a series as Australia's captain. He was the first cricketer to achieve the double of 200 wickets and 2000 runs in Test matches, and he went on to amass 248 wickets and 2201 runs.




After retiring as a player in 1964, Benaud embarked on a career in broadcasting. He had already prepared for this by taking a BBC presenting course some years earlier. He lived a life of perpetual summer by working in England in the summer and in Australia in its summer.




In England, he commentated on BBC television, moving to Channel 4 when it took over coverage of international cricket in 1999. In Australia, he worked on Kerry Packer's Channel 9 Network, covering official Test cricket and, between 1977 and 1979, matches in Packer's breakaway World Series Cricket. It was Packer who suggested to Benaud that he should wear the cream-coloured jacket that became his trademark during commentary.




His commentating style was to let the pictures do the talking, only adding his comments where necessary. One of the best-known examples of this was when Australian leg-spinner Shane Warne delivered his first ball in a Test match in England and dismissed the England captain, Mike Gatting, bowling him by turning the ball sharply across his legs.




Benaud firmly believed that cricket should be broadcast live on free-to-view television, and when, after the 2005 Ashes series in England, the broadcast rights transferred to Rupert Murdoch's subscription service, Sky Sports, he gave up commentating in England. He carried on broadcasting in Australia until injuries that he sustained in a car accident in 2013 brought about his retirement.




In November 2014, Benaud announced that he had skin cancer. He died on 10 April 2015, aged 84. His cricketing and broadcasting career had been, to use his own favourite adjective, "marvellous!"




Allezblancs, Drunkasaskunk, and WEP were able to pick Benaud's googly, and they hit it for six (5 for the hit and 1 for the trio).
--Allezblancs
A
ll content (c) 2005-2015 alt.obituaries Deadpool. All rights reserved.