alt.obituaries Memorial Deadpool
est. 2005
Rex Reason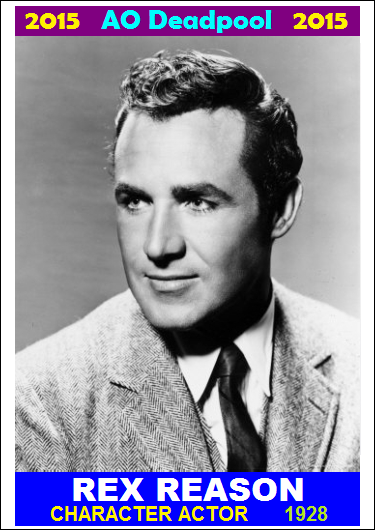 I love '50s sci-fi movies. Good sci-fi, bad sci-fi, mutant critters, fake spaceships; no matter, I love 'em all.
This Island Earth
, Rex Reason's magnum opus, is no exception. The vivid colors, the wild special effects, the ludicrous story line . . . A+, in my book. Oh, and don't forget the sequel to The Creature from the Black Lagoon, entitled The Creature Walks Among Us. Pure gold.


Rex Reason was born in Berlin, Germany, on November 30, 1928. He and his younger brother, Rhodes Reason, grew up in Glendale, California. Both Rex and Rhodes were tall and good-looking and had beautiful speaking voices; their mother guided them toward careers in show business. Of the two, I think Rex was better-looking and Rhodes was the better actor.


Rex studied at the Pasadena Playhouse for a couple of years, and was discovered while performing on the stage in Los Angeles. He was in a lot of movies, mostly as second or third lead, including the oddly cast Taza, Son of Cochise. He appeared on television in guest roles, including a really stupid episode of Perry Mason in which a murder occurs during a performance by a traveling Shakespearean company. Of course, Perry is in the audience when Rex's character supposedly commits the murder. And also of course, Rex's character is innocent, as Perry, typically, proves during the course of the hour.


Rex decided that he was tired of show business and opted to retire despite an offer from Frank Sinatra to take the Raymond Shaw role in the film The Manchurian Candidate. Rex went on to sell real estate, and also did voice-over work when the mood struck.


Rex Reason died in Walnut, California, on November 19.
--Kixco
A
ll content (c) 2005-2015 alt.obituaries Deadpool. All rights reserved.