alt.obituaries Memorial Deadpool
est. 2005
Patsy Garrett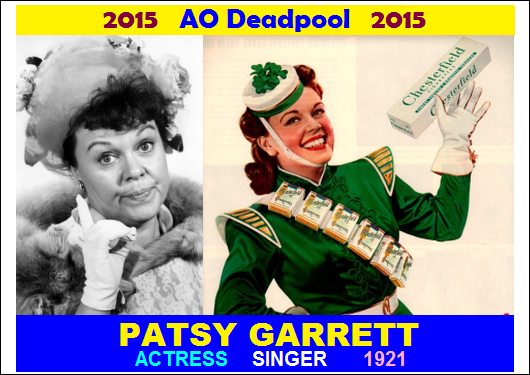 Virginia (Patsy) Garrett was born in Atlantic City, New Jersey, on May 4, 1921, to vaudevillian parents notable as "Mason and Gwynne."
At the age of 7, she began her own entertainment career as a radio singer. Later, she sang for popular bandleaders of the day.


Although she had recurring roles on popular TV shows such as

Room 222

and

Nanny and the Professor,
she is most remembered for something else: a technical trick in a Purina
Cat Food commercial.




Despite her family-friendly persona, her earliest film role was in
1962's "The Chapman Report," a film portraying the sex lives of several suburban women, based on the Kinsey Report. Garrett appeared as "Older Married Woman" (uncredited).




She was married to Alexander Kokinacis (known as composer
Nick Alexander). They had two children. She died in Indio, California, at age 93, on January 8, 2015.


Chow-chow-chow, Patsy!
--Koko-Moxie
A
ll content (c)2005-2015 alt.obituaries Deadpool. All rights reserved.