alt.obituaries Memorial Deadpool
est. 2005
Patrick Macnee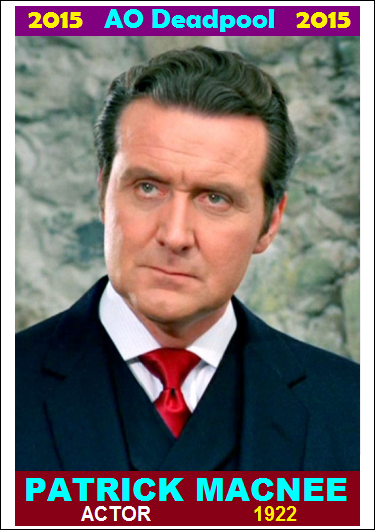 Daniel Patrick Macnee, born February 6, 1922, was an English-American actor. He was best known for his role as the secret agent John Steed in the television series

The Avengers

, before the Avengers were known as a group of Marvel superheroes. At this historic time of recognition by the United States Supreme Court, it seems appropriate to bring the story of the late actor's upbringing to light. Just imagine what it must have been like to have been raised by two women, admitted and acknowledged lesbians, in the late 1920s through 1930s!




The elder of two sons, Macnee was born in Paddington, London, to Daniel Macnee and Dorothea Mary Hastings. His father was an alcoholic racehorse trainer who drank gin at breakfast. At one point, he took off for India, where he landed a job at the Bombay racecourse. Macnee's parents divorced after his unpredictable mother, a niece of the Earl of Huntingdon, became pregnant by another man and then moved into a stately Tudor mansion with her lesbian lover Evelyn, an heir to the Dewar's whiskey fortune, who dressed like a man and had a pet monkey that would perch on her shoulder.




As recounted in Macnee's 1988 book

Blind in One Ear: The Avenger Returns

, the man-hating Evelyn forbade the seven-year-old Patrick to wear trousers in her home and suggested that he would look better in a dress. He ultimately was allowed to wear a kilt. But Macnee overheard "Uncle" Evelyn, as he was required to call her, tell his mother, "Given time, we'll make a good woman of him."




Evelyn paid his way to Eton, one of the U.K.'s most prestigious boarding schools, where he developed his acting skills before being expelled for bookmaking and selling erotic pictures to his schoolmates. Macnee felt "that he had been socially and sexually confused by his upbringing and schooling." He found America a less repressed environment and, upon settling there, became an active member of a nudist colony in the mid-1970s. He eventually settled in the Palm Springs area of California in the 1980s, and lived there until his death at the age of 93 on June 25, 2015.




Not long before his career-making role in

The Avengers

, Macnee served as one of the London-based producers for the classic documentary series

The Valiant Years

, based on the Second World War memoirs of Winston Churchill. While working in London on the Churchill series, Macnee was offered a part in

The Avengers

(1961−69). The series was originally conceived as a vehicle for actor Ian Hendry, who played the lead role of Dr. David Keel, while John Steed was his assistant. Macnee, though, became the lead after Hendry's departure at the end of the first season. During the course of the series, Macnee played opposite a succession of glamorous female partners: Honor Blackman, Diana Rigg, and Linda Thorson. He insisted on, and was proud of, never carrying a gun in the original series; when asked why, he explained, "I'd just come out of a World War in which I'd seen most of my friends blown to bits."




Macnee played both Sherlock Holmes and Dr. John Watson on several occasions. He appeared in

Magnum, P.I.

(1984) as a retired but delusional British agent who believed he was Sherlock Holmes, in an episode titled "Holmes Is Where the Heart Is," and played Holmes in another TV film,

The Hound of London

(1993). He played Watson three times: once alongside Roger Moore's Sherlock Holmes in a TV film,

Sherlock Holmes in New York

(1976), and twice with Christopher Lee, first in

Incident at Victoria Falls

(1991) and then in

Sherlock Holmes and the Leading Lady

(1992). He is thus one of only a very small number of actors to have portrayed both Sherlock Holmes and Dr. Watson on screen.
--Eternity Tours
A
ll content (c) 2005-2015 alt.obituaries Deadpool. All rights reserved.