alt.obituaries Memorial Deadpool
est. 2005
Omar Sharif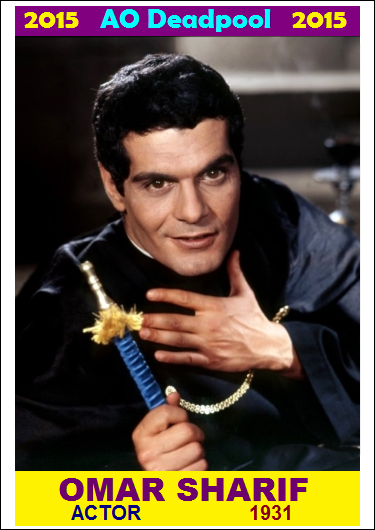 Omar Sharif was born in Alexandria, Egypt, to a purveyor of exotic woods and his socialite wife. Learning bridge at the knee of his mother and her friends, including King Farouk, he went on to become a luminary at the highest level of the game. He graduated from Cairo University with a degree in mathematics and physics before going on to study acting at the Royal Academy of Dramatic Art.




It's been said, perhaps in jest, that he pursued his dramatic career in order to finance his bridge habit. A familiarity with the works of Edith Wharton might make one more inclined to consider this a statement of literal truth. As his family's fortunes were buffeted by regime change, he exploited his good looks and his affinity for languages to secure himself a place in perhaps the only profession that would allow him to keep his place in the Game.




Possessed of a fierce, almost sinister, beauty, he began his cinema career in the Egyptian film

Shaytan al-Sahra

in 1954. In that same year, he was chosen by the Egyptian star Faten Hamama to be her co-star in the film

Struggle in the Valley

. Notoriously chaste in her film personae, Hamama caused quite a stir by agreeing to an on-screen kiss. This proved to be a sign of things to come: she and Sharif were married a year later. The couple went on to make several more films together in Egypt before Sharif left to further his fortunes in Europe and Hollywood.




His first English-speaking role was in David Lean's

Lawrence of Arabia

, and his final film credit was for 2015's

1001 Inventions and the World of Ibn Al-Haytham

. Once he had embarked on an international career, Sharif faced travel restrictions that all but forced him into a life of exile. He spent most of this period living as a bachelor in a series of European hotels. Missing his family, and having amicably divorced his wife, who chose to remain in Egypt, he spent his downtime in Europe's casinos and racetracks.




Lest you be left with the impression of a solely sybaritic life of economic privilege, I will end with a small anecdote suggesting that he was also a gracious man who gave freely of his time. A friend tells about meeting Mr. Sharif 40 or so years ago, when he came to workshop with students at Portland State University's Middle Eastern Studies Center. He made an impression as he arrived without an entourage, genuinely engaged with the students who came to see him, and stayed far longer than was required. A class act all the way.
--Goddess of Hellfyre
A
ll content (c) 2005-2015 alt.obituaries Deadpool. All rights reserved.