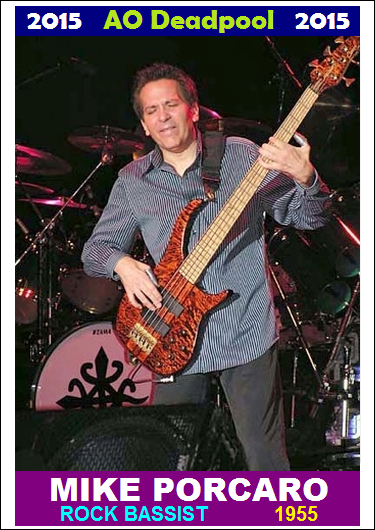 Memories of grade 9 concert band. Yes, in addition to learning "Flashdance ...What A Feeling" by Irene Cara and "Late in the Evening" by Paul Simon, there was also Toto's contribution, "Africa." I can still hear the trumpets playing the opening notes all these years later, as I tried to find the right notes on my trombone. Hearing of the death of bassist Mike Porcaro brought me back, if only briefly, to that time in my life. As far as music goes, I was always far better in the listening department than at actually being able to play an instrument.
And listen I did to many acts, including Toto. Formed in 1978 and featuring, among other musicians, Porcaro brothers Steve on keyboards and Jeff on drums, the band would achieve chart success quickly, with the top 5 hit "Hold the Line." They'd up that success with the Grammy-winning "Rosanna" in 1982 and their lone U.S. #1 hit, the previously discussed "Africa," later that year. However, it was only in 1983, after their biggest successes, that Mike Porcaro joined his brothers, replacing original bassist David Hungate. He did play on the tour that supported the
Toto IV
album, off of which "Rosanna" and "Africa" had been released as singles. By all accounts, Mike Porcaro was a talented musician, like his brothers and his father Joe, a noted jazz percussionist.
Toto would continue to release material until the early 1990s. In 1992, eldest Porcaro brother Jeff died of a heart attack. Despite being long forgotten by top 40 radio, Toto continued to tour with various lineups that included Mike Porcaro. However, by 2007, he'd noticed that his health was beginning to decline. Mike Porcaro would be diagnosed with ALS and forced to retire from the band. The disease would eventually put him in a wheelchair and leave him unable to move. The band's last tour, in 2010, was to help pay for his health expenses. Toto was preparing for a new tour in 2015 when news broke of Mike Porcaro's death. Despite his loss, and perhaps now in his memory, Toto will embark on that tour, beginning in May.


Mike Porcaro died on March 15 at age 59. Gerard Tierney and Allen Kirshner each get 14 points for the hit and 3 for the duet, a total of 17 points.
--Allen Kirshner
A
ll content (c) 2005-2015 alt.obituaries Deadpool. All rights reserved.