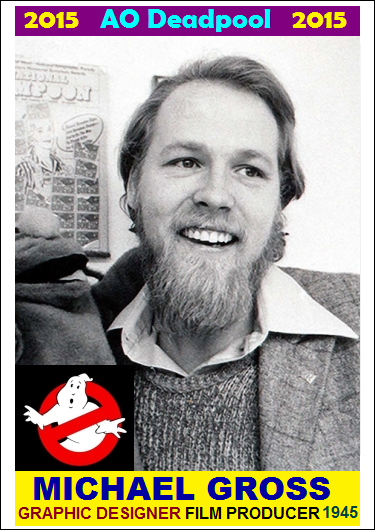 One day, six or seven issues into its existence, Michael C. Gross walked into the offices of National Lampoon and said, "You know, this is a funny magazine,
but it looks like crap. I'm an art director. Hire me. I'll fix it."
That he did, transforming what had resembled an underground comic book to a "real" magazine, faithfully imitating whatever it parodied. In 1974, the graphic design magazine Print featured a cover story on National Lampoon. Accompanying the article was a parody of Print magazine itself, created by the editors and art staff of National Lampoon.* His famous
"If You Don't Buy This Magazine, We'll Kill This Dog" cover, from the January 1973 "Death" issue, remains not only the magazine's signature cover, but probably the signature cover for signature covers.
He left Lampoon in 1974 to become a freelance consultant and personal designer, with a client list ranging from John Lennon to the Muppets. That led, naturally, to a career in film production. Columbia Pictures, stumped for a marketing strategy for an upcoming feature for which they'd yet to acquire rights to the title, approached Gross, who told them to use only the logo. Thus was born the ubiquitous "no ghosts" symbol from 1984's Ghostbusters, which a Pratt Institute survey named the most admired icon created by an alumnus, beating out the Chrysler Building,
If You Give A Mouse A Cookie
,
and the Disney School Bus lunch box.
Having read reports of something strange in the neighborhood of Gross's kidneys—he'd survived cancer for 30 years—who was I gonna call? No one. Now Gross is a ghost, Buster, and Gerard Tierney has eight points, plus five for the solo.




*Faithfully copied and pasted from Mark's Very Large National Lampoon Site. Additional acknowledgment to the Onion's A.V. Club for information used in this update.
--Gerard Tierney
A
ll content (c) 2005-2015 alt.obituaries Deadpool. All rights reserved.