alt.obituaries Memorial Deadpool
est. 2005
Max Keeping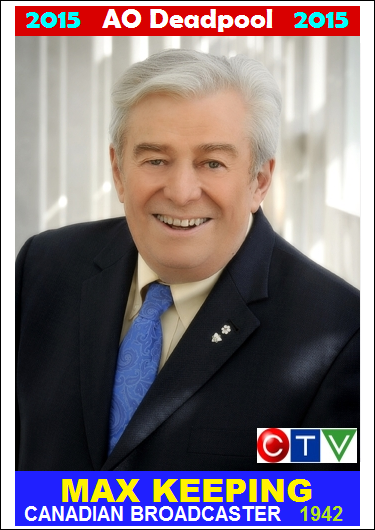 When it comes to media personalities, it can sometimes be difficult to pinpoint one person who, above the rest, truly represents a city. However, there are rare occasions when a city easily lays claim to an ambassador. Falling into the latter category is Ottawa, Ontario's Max Keeping.




This obituary is easier than most for me to write because I've lived in Ottawa for more than 20 years. During that time, Max Keeping was a name I constantly heard when it came to city events. Primarily, he anchored, and later coanchored, one of the city's local TV newscasts, moving into that position in 1972 and holding it until the end of 2009. Max, however, was much more than a newscaster. He was a true ambassador, taking up numerous charity causes and putting his stamp on them. It's estimated that his efforts, including telethons and community groups, helped raise more than $100 million for the local community. Kids, in particular, benefited from his efforts, given his long and close association with the Children's Hospital of Eastern Ontario. His own Max Keeping Foundation, established in 1995 but dissolved in early 2015 due to his failing health, went above and beyond in helping children and families in need.




As part of his retirement agreement with CJOH-TV, Max continued on as a station ambassador for two years, leaving for good in March 2012. His efforts, however, would not be reciprocated with good health. Max Keeping fought cancer on three separate occasions, the third time a battle he knew he wouldn't win. Told that his colon cancer was untreatable, he faded from the public eye, gone but never forgotten.




Max Keeping died on

October 1, 2015

. He was 73 years old. Allen Kirshner, Chipmunk Roasting, Direcorbie, and Gerard Tierney each receive 8 points for the hit.
--Allen Kirshner
A
ll content (c) 2005-2015 alt.obituaries Deadpool. All rights reserved.