alt.obituaries Memorial Deadpool
est. 2005
Manoel de Oliveira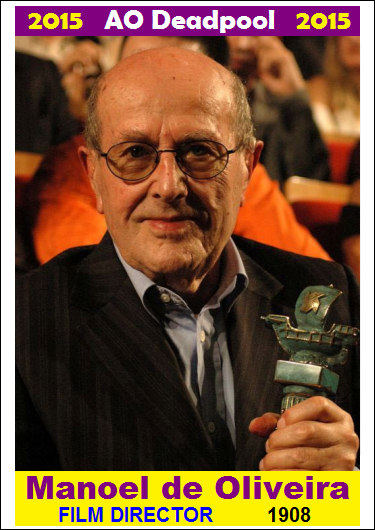 Manoel de Oliveira was mostly a director, sometimes an actor and screenwriter, but he was also a film producer and a port wine producer. Born as Manoel Cândido Pinto de Oliveira on December 11, 1908, to a wealthy family in Porto, he was one of the last people named Manoel instead of Manuel, since he was born before the Portuguese spelling reform. He spent his youth on sporting activities, such as car racing, before starting a short career as an actor in the 1930s.




Walter Ruttman's film Berlin – Die Sinfonie der Großstadt inspired de Oliveira to move behind the camera. His first film was a silent documentary about the river in his hometown, called Douro, faina fluvial (1931). Other films followed. His neorealist film Aniki Bóbó (1941) was a financial disaster and caused a break in his working life. He joined his family's winery and produced port wine.




De Oliveira returned to cinema at the end of the 1950s, becoming interested in color movies. His film O Acto da Primavera (1963) earned him both a gold medal in Siena and a short imprisonment in Portugal. After that, he made no films until 1971. Between the 1970s and the 1990s, he produced more than 30 movies, including such stars as John Malkovich, Catherine Deneuve, Marcello Mastroianni, and Michel Piccoli. Although he didn't produce mainstream movies, he became a big name in European cinema. His last work, a short film called Chafariz das Virtudes, was released in 2014, when he was 105 years old.




His age gave him a final record. From 2001 until his death, de Oliveira was known as the oldest living and still active director in the world, and maybe the last one who was active during the silent-film era. He died on April 2, 2015, in his hometown of Porto, at the age of 106. After his life as a producer of movies and port wine, he finally produced 4 points for WEP and Where's My Damn List? (1 for age and 3 for duet).
--WEP
A
ll content (c) 2005-2015 alt.obituaries Deadpool. All rights reserved.