alt.obituaries Memorial Deadpool
est. 2005
Lorena Rojas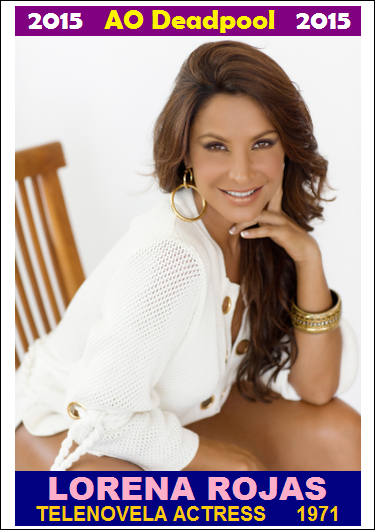 I'm not quite sure what a telenovela is, but Lorena Rojas was the queen of 'em.




If you're thinking Mexican soap opera, you're on the right track. Stylistically, and often thematically, telenovelas share many of the characteristics of American soaps, and are hugely popular in the Spanish-speaking world. But they're also big in Africa, Asia, Brazil, French-speaking Canada, and, for some reason, Croatia. Turns out a ton of them are made in Miami, where Rojas lost her six-and-a-half-year battle with cancer on February 16.




A native of Mexico City, the 19-year-old Rojas got her start in the 1990 Mexican production Alcanzar una estrella ("To Reach a Star"), about a teenager, coincidentally named Lorena (not played by Rojas), who meets her idol, a telenovela star–turned–pop singer. Perhaps not so coincidentally, Rojas would eventually parlay her own televsion fame into a singing career.




A sequel followed a year later, then a succession of parts for Mexico's Televisa network, culminating in her first lead role, in 1996's Cancion de amor ("Love Song"). Art would again foreshadow life; her character died of cancer.




Unlike our soaps, telenovelas have a beginning, a middle, and an end, at least most of the time. Rojas's 1998 starring vehicle

Tentaciones

("Temptations"), about a woman who falls in love with a priest, was pulled in mid-run due to its controversial theme.




Having touched on the beginning and middle of her career, you can probably see where this is going.




Apparently the role Rojas coveted most was that of mother. Doctors could not explain her inability to conceive, and repeated attempts at adoption ended in failure. It was in 2008, while undergoing tests in hopes of getting pregnant, that she was initially diagnosed with breast cancer. A subsequent surgery was deemed successful—aren't they always? But leg pains sent her back to the doctor in 2012; the disease had metastasized to her bones. Still, through treatment and recurrences, she persevered with her dream of motherhood, culminating with the birth, in Mexico, of a little girl named Luciana on October 6, 2013, then a final, agonizing two weeks to make sure the biological mother didn't change her mind.




By 2014, advancing illness had reached her liver, a plot twist duly noted in these quarters.




Only 44, she left behind a boyfriend, a one-year-old daughter, a worldwide following, and an unfinished storyline.
--Gerard Tierney
A
ll content (c) 2005-2015 alt.obituaries Deadpool. All rights reserved.