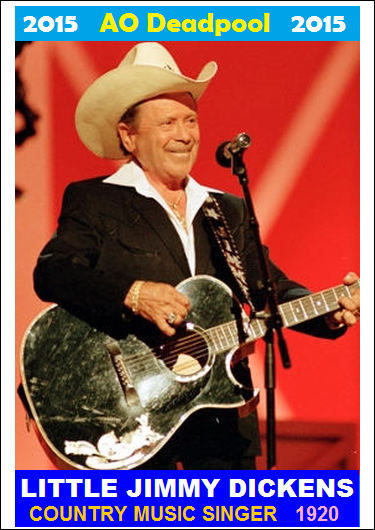 "Hi, I'm Little Jimmy Dickens, or Willie Nelson after taxes."
This was the opening line in later years for the oldest living, and shortest, member of the Grand Ole Opry, who recently turned 94.
The oldest of 13 children, Dickens was raised on a farm in the south-central coal region of West Virginia. Although he tried college, the lure of entertainment took over.
While Dickens was working at a radio station in Cincinnati, Roy Acuff heard him and recomended him to the Opry and Columbia. In 1950, Dickens would do the same for Marty Robbins on a tour through Arizona.
The nickname "Tater" came from Hank Williams Sr., in reference to Dickens's first hit, "Take an Old Cold Tater and Wait." Williams supposedly wanted to give Dickens his song "Hey, Good Lookin'," but decided to keep it for himself.
Dickens's music ranged from novelties to rockabilly to teary recitations. He had much respect for the young Opry members, including another guy from West Virginia, Brad Paisley.
Fourteen deadpoolers had him on their lists for two points each.
--Busgal
A
ll content (c) 2005-2015 alt.obituaries Deadpool. All rights reserved.