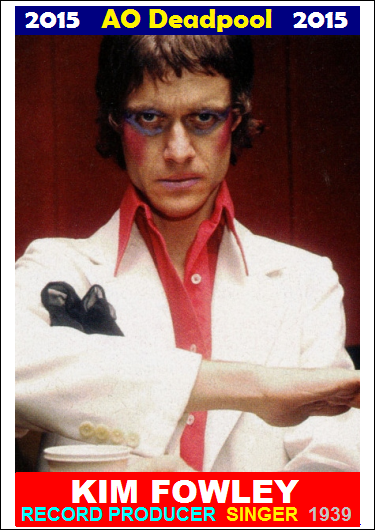 I'll call him "the Bill Cosby of the Rock and Roll Era." Kim Fowley got away with rape because his victims talked to others but never
filed charges. One victim, known to many for years, was Jackie
Fuchs, drummer of the Runaways. Like many of Cosby's victims,
she was given Quaaludes, then awoke as she was raped.


But none of that matters. From his part in the comic song "Alley
Oop" to his production and publicity for many rock bands, people
only remember the music.


Kim Vincent Fowley was born on July 21, 1939. He died of bladder cancer in Hollywood, California on January 15, 2015, at the age of 75. I hope that hurt.
But wait! There's more! His final wish was for his body to be
eviscerated, shot, burnt, and then photographed with a
gorgeous model for a magazine named Girls and Corpses.
But maybe real life has the last laugh. Those arrangements
were planned with a previous girlfriend. He got married shortly before he died, and that woman took control
of his body. Neither she nor his remains can be located for
his final send-off. So "Papa-Oom-Mow-Mow" to you, Fowley.
--Koko-Moxie
A
ll content (c)2005-2015 alt.obituaries Deadpool. All rights reserved.