J. P. Parise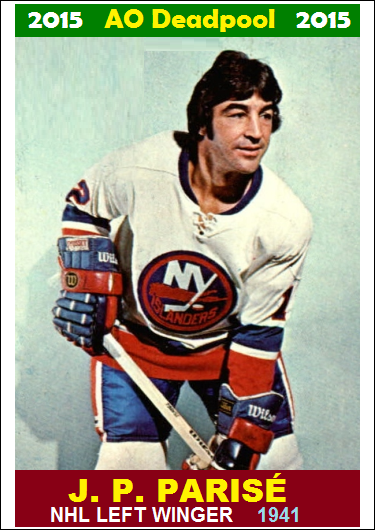 A few years ago, when my parents were downsizing, my father gave me a hardcover coffee-table picture book called
Twenty-Seven Days in September
, all about the 1972 Canada–Russia summit hockey series. Admittedly, I don't look at it very often, but the passing of Team Canada member Jean-Paul (J. P.) Parise gave me the opportunity to thumb through the pages. Following an extended written introduction is a two-page team photo. In the top right corner, in between teammate Richard Martin and what I can only guess was a trainer, was the man who'd become the tournament's most penalized player. Parise, who'd begun playing in the NHL in the mid-1960s, was no saint, but he wasn't a goon, either. Still, one stick incident involving an official nearly changed the course of Canadian hockey history. A decision to let discretion be the better part of valour allowed Canada to continue on and ultimately win the eight-game series. After the career-defining victory, Parise returned to the professional hockey ranks for several more years, closing out his career after the 1978–79 season, having played nearly 900 games in the league.
Fast forward to 2003, when proud papa J. P. saw his son Zach picked in the first round of the NHL draft. Two years later, Zach would follow in his father's skate path, into the NHL, and would, in time, also represent his country—this time the United States—at the Olympics. J. P. mellowed with his son's success. However, a February 2014 diagnosis of stage 4 lung cancer, with a prognosis of two years to live, shook the Parise family to its core. While searching for items in the days leading up to J. P. Parise's death, I was struck by one story I scanned. A close friend remarked that, if anyone deserved a miracle, it was the Parise family. I also came across a very telling photo from a couple of years ago. It was of J. P. with one arm around son Zach and another around son Jordin, the older of the two Parise boys, who himself had played professional hockey, but hadn't made it to the NHL. The pride and joy in J. P.'s face, as all three smiled, was unmistakable.


J. P. Parise died from lung cancer on January 7, 2015, less than a year after he'd received the devastating news of his terminal illness. I, Allen Kirshner, get 8 points for the hit, 5 points for the solo, a total of 13 points.


--Allen Kirshner

A
ll content (c) 2005-2015 alt.obituaries Deadpool. All rights reserved.