alt.obituaries Memorial Deadpool
est. 2005
Johnny Gimble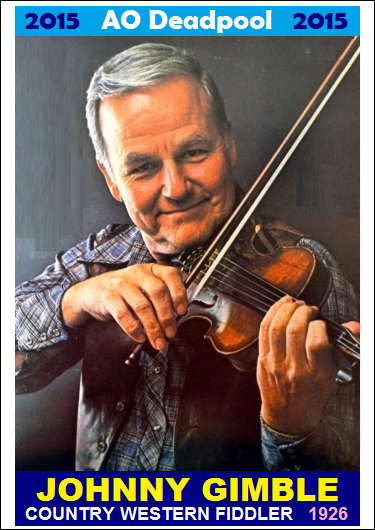 Johnny Gimble started playing fiddle as a youngster, with his brothers in the Rose City Swingsters, for local country dances in East Texas. Swing fiddler Cliff Bruner advised him to translate what he heard and hum it. His live performances were limited during his military service, but he got practice listening to Armed Forces radio.




Bob Wills hired him after the war, and he also recorded on some early sessions of Marty Robbins, Ray Price, and Lefty Frizzell in Dallas. There was also local TV out of Waco, with a young Willie Nelson on bass. As the '50s ended, with the changing music scene, he quit music for a while and became a barber.




The late '60s brought him to Nashville for some session work, including the Million Dollar Band on

Hee Haw

. When he moved back to Texas, he was part of Nelson's band and a part of the success of Asleep at the Wheel and George Strait. His last big recording was a tribute album with some friends in 2010.




Busgal has strung him along on her list and gets 5 points for the hit, plus 5 for the solo.
--Busgal
A
ll content (c) 2005-2015 alt.obituaries Deadpool. All rights reserved.