alt.obituaries Memorial Deadpool
est. 2005
Joan Lind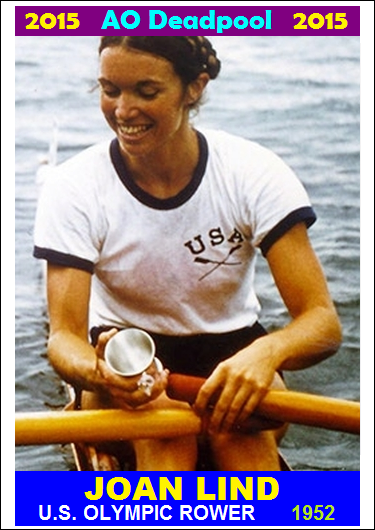 If Joan Lind had died a hundred years ago, it would have been a much bigger story. Rowing was a major sport in America back then, right up there with
lawn bowling,
steeplechase, and flagpole sitting. As it is,
the Long Beach native and holder of ten world records couldn't even crack the Los Angeles Times.




Then again, that puts her almost in league with sprinter Houston McTear, once the world's fastest human, who, in case you missed it, died on November 1 at 58. At his late-'70s peak he was one of the most celebrated athletes in the world. But outside of his hometown, the only newspapers that seem to have noted his passing are the Duluth News Tribune, which also had the good sense (for a small fee) to announce my birth, and the Times.




Blame Jimmy Carter. His boycott of the 1980 Olympics denied both athletes a world stage at the height of their careers. But while McTear's life descended into drug abuse, homelessness, and ultimate obscurity, rowing brought Lind a second Olympic silver medal in 1984 (her first, in 1976, was the first Olympic rowing medal ever won by an American woman), a second career in coaching, and a husband, as well as ultimate obscurity.




But this game was built on obscurity, and no one knows that better than Gerard Tierney. He also knew that Joan Lind Van Blom was operating with one oar out of the water (can you say that about someone with a brain tumor?), and thus he claims the first-ever deadpool points for an American woman rower, Olympic or otherwise. Eleven of them, plus five for the solo.
--Gerard Tierney
A
ll content (c) 2005-2015 alt.obituaries Deadpool. All rights reserved.