alt.obituaries Memorial Deadpool
est. 2005
Jim Ed Brown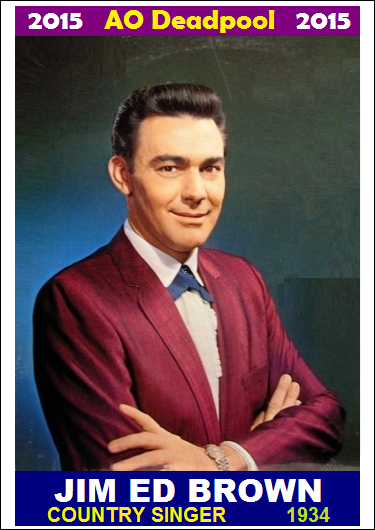 Jim Ed Brown never had to be "Looking Back to See" if he was "In Style Again" to fans of traditional country music.


The second of five children, he was born in Sparkman, AR, in 1934, to a family that moved constantly and mostly worked in logging and restaurants. He and older sister Maxine started recording in 1954, and younger sister Bonnie would join them soon after. RCA signed them in 1956, and their biggest hit, "The Three Bells," topped multiple charts late in 1959. They joined the Grand Ole Opry in 1963; then Jim Ed went solo in 1966.


Next came a syndicated TV series,

Nashville on the Road

, and

You Can Be A Star

on the Nashville Network. His recording revival came in the mid-'70s, as a duet with Helen Cornelius. He was a regular performer on the Opry until he dealt with cancer.




Busgal, who saw him a couple of times—including from the second row at the Ryman Auditorium in November 2009—
used her country music sources to get 5 points for the hit and 5 for the solo.
--Busgal
A
ll content (c) 2005-2015 alt.obituaries Deadpool. All rights reserved.