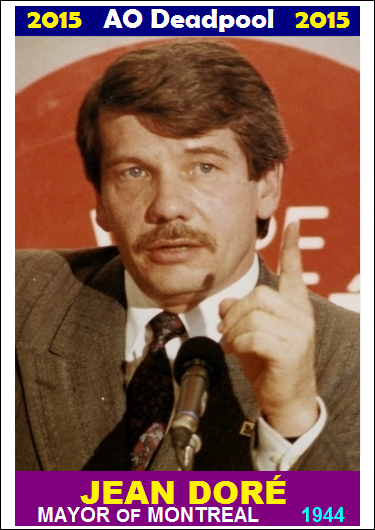 It can be tough to be "that guy" (or gal), the one who replaces an icon. Pope John Paul II was a giant among Popes. Benedict XVI . . . not so much. Jean Dore found himself in that same position after being elected as mayor of Montreal. He'd be taking over from a municipal institution in Jean Drapeau, who'd been in that position from 1954 to 1957 and again from 1960 through 1986, a total of eight electoral victories. He'd brought Expo '67 to the city and, less than a decade later, was front and centre during the 1976 Summer Olympics. Dore clearly had big shoes to fill.
A lawyer by trade, Dore had been politically active going back to his student days, getting elected to the University of Montreal's general students' association in 1967. He took his political efforts a step further in 1974, when he became a founding member of the Montreal Citizens' Movement municipal party. In 1982, he was elected as party president. After winning the Montreal mayorship in 1986, he set a different path than had his predecessor. Whereas Jean Drapeau had been secretive and autocratic, Jean Dore modernized the position. He allowed for public committees and for citizens to be able to ask questions of Montreal city council. And, unlike Pope Benedict's short-lived Papacy, Dore would go on to serve two terms in his position, reigning as Montreal mayor for eight years. His biggest moment, unlike Drapeau's, came as a result of tragedy. It was Dore who guided the city in the aftermath of the 1989 Ecole Polytechnique massacre, where 14 women were killed. Following his 1994 electoral defeat, he left municipal politics, but returned in 1998 with a new party. He made an unsuccessful run for mayor, losing to incumbent Pierre Bourque, the man who'd defeated him in 1994. He left politics for good thereafter.
Dore moved to the banking sector, where he spent the rest of his working days. He led his life outside the public eye until September 2014, when he announced his diagnosis of pancreatic cancer. In December 2014, already noticeably ailing from the disease, he attended the 40th anniversary celebration of the municipal party he'd co-founded. His colleagues took the opportunity to fete Dore. In late May 2015, the city of Montreal moved ahead with a plan to name a public beach in his honour. Dore was too ill to attend. Three weeks later, he succumbed to the cancer, passing on less than a year after learning of his terminal illness
.


Jean Dore died on June 15, 2015. He was 70. Allen Kirshner, Deceased Hose, and Gerard Tierney each get eight points for the hit and one bonus point for the trio, a total of nine points.
--Allen Kirshner
A
ll content (c) 2005-2015 alt.obituaries Deadpool. All rights reserved.