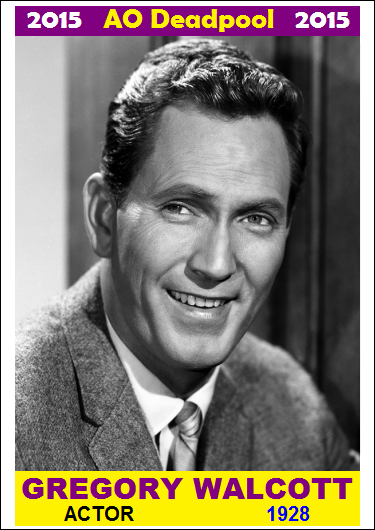 Gregory Walcott's mostly respectable acting career will be best remembered for a major blip: starring in
Plan 9 from Outer Space
.
His film career began in 1952, with a minor role in the Richard Widmark film
Red Skies of Montana
. His appearance in the film was panned, but instead of backing out of a film career, he used this poor reception as motivation to put better effort into future roles. 1955's
Battle Cry
, directed by Raoul Walsh, put Walcott on the map as a respectable actor.
His respectability was such that businessman Ed Reynolds thought that Walcott could lend credibility to Ed Wood's
Plan 9 from Outer Space
. Walcott figured right away that the film was an incoherent mess, both from the script and from the premise of Bela Lugosi, already dead for several years, appearing in it, but thought that Reynolds seemed sincere and assumed that
Plan 9
would remain obscure. Not even Walcott's agent knew he appeared in it. Needless to say, Walcott failed to anticipate
Plan 9
's future infamy.
To Walcott's credit,
Plan 9
didn't torpedo his acting career, even if it caused it to stall for a brief period. In the years after
Plan 9
, he appeared frequently in TV westerns and had a role in Steven Spielberg's directorial debut,
Sugarland Express
. Yet starring in
Plan 9
ended up his best-remembered role.
Unsurprisingly, Walcott was initially chagrined that
Plan 9
would be his legacy, joking in a 1998 interview, "It's enough to drive a puritan to drink!" Yet he later admitted that he never thought he'd have been perceived as a star, and that he'd come to terms with knowing all of his obituaries would mention said film in the headline.


Certainly, if not for Plan 9, Walcott wouldn't have been picked by anyone in the AODP. I wondered, a few years back, if anyone of note from the film was still with us and discovered that the lead was, and used this knowledge to my advantage. Therefore I, Jefferson Survives, receive 10 points (5 for age + 5 for solo).
--Jefferson Survives
A
ll content (c) 2005-2015 alt.obituaries Deadpool. All rights reserved.