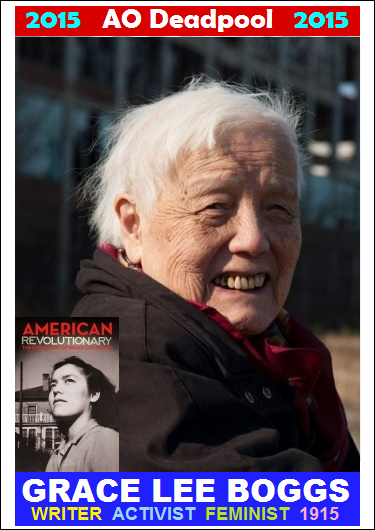 Grace Lee Boggs, a writer, activist, philosopher, and feminist, was born on June 27, 1915, of poor Chinese immigrants, in Providence, Rhode Island. She was educated at Barnard and Bryn Mawr Colleges, where she was significantly influenced by Kant and Hegel. After moving to Chicago, she became active in a number of socialist and left-wing organizations. She married auto worker and political activist James Boggs and moved to Detroit in 1953. She collaborated with other activists such as C. L. R. James, Raya Dunayevskaya, Martin Glaberman, and Malcolm X. She wrote five books, the last of which, entitled
The Next American Revolution: Sustainable Activism for the Twenty-First Century
(co-written with Scott Kurashige), was completed at age 95.
When I learned last year that friends had collected funds to provide her with round-the-clock care, she piqued my interest. Ninety-nine-year-old marginal celebrities who are ill are always good picks.
She scored 4 points (1 for the hit, 3 for a duet) for Deceased Hose and Go the Distance.
--Deceased Hose
A
ll content (c) 2005-2015 alt.obituaries Deadpool. All rights reserved.