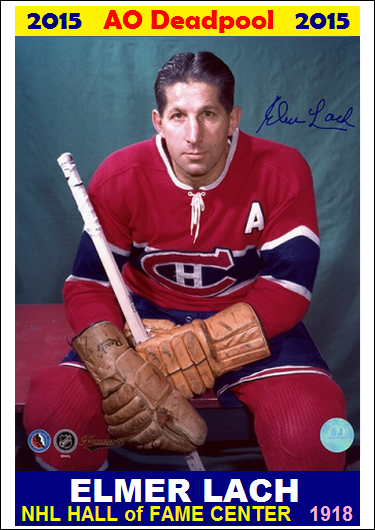 Up until his death in April 2015, Elmer Lach was not only the oldest living National Hockey League (NHL) player, but the last surviving member of the Montreal Canadiens' "Punch Line," a power offense trio comprising Lach at center, left wing forward "Toe" Blake, and right wing forward Maurice "Rocket" Richard. At the time, Richard and Lach were unilingual, while Blake was bilingual. Lach let his skating and passing skills do the talking with Richard, assisting most of Richard's 50 goals scored in 50 games.
Damaged often but nearly indestructible, Lach had a staggering number of injuries. After scoring the Stanley-Cup-winning goal in 1953 against the Boston Bruins, he broke his nose in an awkward, celebratory collision with Rocket Richard. He suffered so many injuries that his health insurance company offered to pay him to retire.
In 1945, as the Most Valuable Player in the regular season, Lach was awarded the Hart Memorial Trophy. In 1948, he was the first recipient of the Art Ross Trophy, awarded to the NHL skater who led the league in points for a season.
All these achievements from a forward that the Toronto Maple Leafs turned down when he tried out for them in 1940.
Lach did eventually learn French, immersed in Quebec culture as a Canadien. When the Boston Bruins' Milt Schmidt complained to Lach about a heckler behind the visitors' bench at the Montreal Forum, Lach advised him to tell the heckler, "
Mangez la merde
." When Schmidt tried it, the heckler took a swing at him. Schmidt was still distracted when he took his next shift, and Lach elbowed him in the face.


Upon his retirement in 1954, Lach's 623 points were second-best in NHL history, trailing only the Rocket's 651. He was elected to the Hockey Hall of Fame in 1966.
--Keister Button
A
ll content (c) 2005-2015 alt.obituaries Deadpool. All rights reserved.