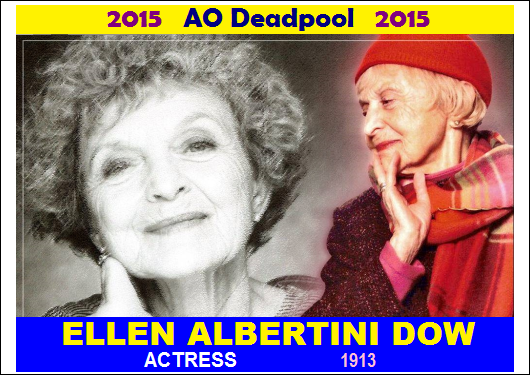 "I said a hip hop, a hibbi to da hibbi da hip hip hoppin', ya don't stop a-rockin' to da bang bang boogie say up jump da boogie to da rhythm to da boogie da beat!"
It doesn't matter how many years have gone by since you last watched the 1998 Adam Sandler movie
The Wedding Singer
; there is likely one performance you remember: Rosie, the elderly vocal student who paid Sandler's character Robbie Hart in meatballs and performed an energetic cover of "Rapper's Delight." Ellen Albertini Dow, the actress who brought Rosie to life, died on May 4, 2015, at the hip-hoppin' age of 101.
While she is certainly best remembered as the "rappin' granny," she also portrayed Barry's grandma in
Road Trip
; the foul-mouthed, homophobic Grandma Cleary in
Wedding Crashers
; and one of the singing nuns from the
Sister Act
movies. While her big-screen roles are impressive, her television credits read like a short history of TV:
The Twilight Zone
,
Moonlighting
,
Murphy Brown
,
The Golden Girls
,
The Wonder Years
,
Family Matters
,
Star Trek: The Next Generation
,
ER
,
Seinfeld
, and voices for
Family Guy
. Her last acting role was at the age of 99, as Aunt Ruthie on the hit TV show
New Girl
in 2013.
Dow was born in 1913 in Mount Carmel, Pennsylvania. After obtaining a bachelor's and master's from Cornell University, she performed alongside legendary mimes Marcel Marceau and Jacques Lecoq in Paris, before earning her first on-screen credits in the mid-1980s, when she was already in her 70s. She also taught drama and dance for more than three decades.
In
The Wedding Singer
, Dow's age and slight stature (she was just shy of 5 feet tall) made her an improbable candidate to cover the Sugarhill Gang's "Rapper's Delight." Adam Sandler and director Frank Coraci "thought it would take days and nights to get it," Dow told the
New York Daily News
when the movie came out. But she had a knack for delivering the unexpected. She refused to lip-sync the scene, according to a 2006 interview. Instead, she opted to memorize the lyrics and add her own dance moves: flinging her hands up on the words "bang bang," a sprightly hop during the phrase "up jump the boogie."
"She was always amazed and delighted to be recognized when strangers approached her on the street to tell her how much they loved her," said her agent, Juliet Green. "She was fiercely independent and hated when anyone tried to treat her like an old lady."
In your honor, Ellen, no old lady stuff here, just some really bad rap:
Said you weren't worth a whole lotta points, but we'd like to thank you anyway
1 for the hit + 1 for the trio, certainly made our day
From Eternity Tours, the Farmer of Worms, and the man they call Master Ed V
Ellen Albertini Dow, now your rappin' is heavenly!


--Eternity Tours
A
ll content (c) 2005-2015 alt.obituaries Deadpool. All rights reserved.