alt.obituaries Memorial Deadpool
est. 2005
Elisabeth Wiedemann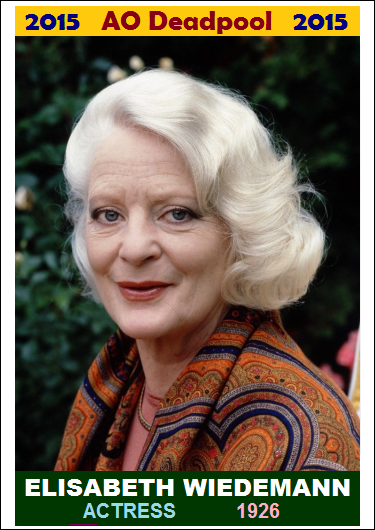 Elisabeth Wiedemann was a brilliant and talented actress, dancer, and voice actress, working in ballet, stage, cinema, and television, but her main credit will always be the role of a simple minded, naive, and benevolent housewife called

Else

.


Born on April 8, 1926, in Bassum, Wiedemann started her career as a ballet dancer in 1944 in Göttingen. She danced mainly in Berlin between 1945 and 1947, and also worked as a stage actress for the legendary Gustaf Gründgens at his Düsseldorfer Schauspielhaus from 1951 to 1955. Besides her stage work, Wiedemann gained some fame as an actress in cinema and television, starring in Tom Toelle's satirical TV series

Das Millionenspiel

and Egon Monk's

Geschwister Oppermann

, a film series about a Jewish family in Nazi Germany.


In 1973, she starred for the first time as

Else Tetzlaff

in the TV series

Ein Herz und eine Seele

, the German version of

All in the Family

(which itself was a U.S. copy of

Till Death Do Us Part

). In

Ein Herz und eine Seele

, director Wolfgang Menge shows the life of a typical worker's family in Germany during the 1970s.

Alfred Tetzlaff

, unforgettably portrayed by Heinz Schubert, is conservative, xenophobic, and bullheaded. He may be a Nazi sympathizer, and he is definitely not amused by the social-democratic government, taking every chance to complain about them.

Michael

, the husband of

Alfred

's daughter

Rita

, is a social democrat and comes from the GDR, which makes him a natural enemy for

Alfred

, who opposes everything coming from the east.

Alfred

's wife Else, in contrast to her husband, is a loving housewife, mother, and wife, although her husband calls her animal names ("

Dusselige Kuh

," or "dim-witted cow") and does not take her seriously.

Else

has no idea about politics or social questions, but tries to comment on most things, which brings humor to the series.




Ein Herz und eine Seele

was aired shortly after being recorded in front of a live audience, which made it possible to integrate current events. Menge produced 25 episodes before the show ended in 1974. When he decided to continue the series in 1976, Wiedemann and actor Diether Krebs (who played Michael) refused to participate and were replaced by Helga Feddersen and Klaus Dahlen. Feddersen created a different Else, more self-confident and less naive, but audience reactions to her were dismissive. This cast was not as successful as the first, and the second series ended after four episodes.


Since the original episodes were shown as reruns every year, Wiedemann was identified with her role as

Else Tetzlaff,

even though she remained active as an actress until the end of her life. Following the death of actress Hildegard Krekel, who portrayed daughter

Rita Tetzlaff

, she was the last remaining member of the series cast and main crew. Children may also remember her as the voice of

Fräulein Reinlich

in the German dubbing of the cartoon series

Doctor Snuggles

.


Elisabeth Wiedemann, widowed twice, died on May 27, 2015, in a senior home in Marquartstein at the age of 88. Team WEP receives 10 points (five for the hit and five for the solo) and waits for two other veteran German TV actresses to follow her.


--WEP
A
ll content (c) 2005-2015 alt.obituaries Deadpool. All rights reserved.