alt.obituaries Memorial Deadpool
est. 2005
Don Harron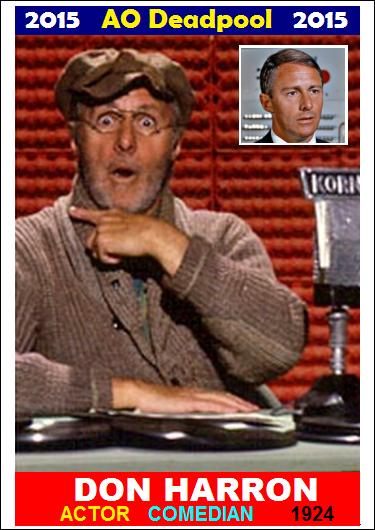 Don Harron, best known for his alter ego Charlie Farquharson, was on

Hee Haw

forever. Well, it seemed like forever, but in reality, it was eighteen seasons, which is steady work for any performer.

Hee Haw

was a guilty pleasure of mine—I was the only one in my circle who'd admit to watching it every week.

Hee Haw

introduced me to country music.




But I digress . . .




Don Harron had a long career, not only in Hollywood but in his native Canada and in London as well. He found his life's work in acting. Sadly, his personal life wasn't as successful. He burned through three marriages, fueled at one time or another by boozed-up women, suicide attempts, and public shouting matches. Among his survivors is his fourth wife, Claudette Gareau (although the sources I read are divided as to whether he and Gareau were married). His relationships with his children are best described as "civil." One of his daughters is the filmmaker Mary Harron, who made

American Psycho

and

I Shot Andy Warhol

.




Don had a reputation as quite a randy fellow; a castmate once joked, "Don's been through every female member of the cast—and half the men."




I didn't know that Don's favorite book was

Anne of Green Gables

, and he adapted the book into a successful musical. One of his proudest accomplishments was his 1997 adaptation of the musical for a disabled cast.




Don loved Canada. "Canada is the best place in the world. I'm not being patriotic; it's a fact." Canada loved him, too. He was awarded the Order of Canada and was one of the first inductees into the Canadian Comedy Hall of Fame. He was also inducted into the Canadian Country Music Hall of Fame in 2010.




Don once said, "I was born at home in bed with a naked woman, and hope to exit the same way." Not sure if his wish came true, but R.I.P., Don.
--Kixco

A
ll content (c) 2005-2015 alt.obituaries Deadpool. All rights reserved.