alt.obituaries Memorial Deadpool
est. 2005
Dick Van Patten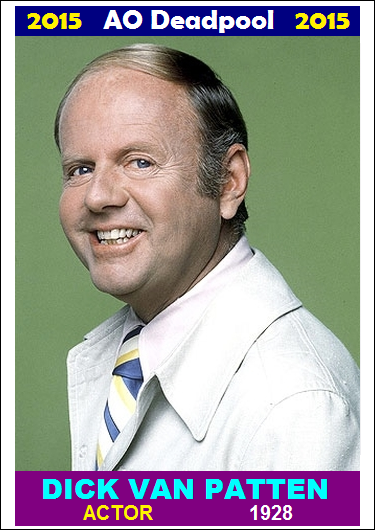 Richard Vincent "Dick" Van Patten, actor, businessman, and friend to all animals, decided that not only "Eight is Enough" but also "Eighty-Six is Enough" as well, and checked his hat and coat at the door of the afterlife, on June 23, 2015.




Van Patten was born in New York City on December 9, 1928, of Italian and Dutch-English heritage, and came right out of the gate as a child actor, performing in several plays on the NYC stage throughout his teens. He found fame and small fortune after moving to Hollywood and taking bit parts in both movies and TV, to the point that, while you may not have remembered his name, you certainly had seen him on the big screen or the boob tube before. His big break came in the role of the family patriarch, Tom Bradford, on

Eight is Enough

, which aired from 1977 to 1981. He was the father of a large brood of kids who were wonderful gems on screen but were living nightmares in real life.
An animal enthusiast, Van Patten co-founded Dick Van Patten's Natural Balance Pet Foods in 1989. He founded National Guide Dog Month, which began in 2008, to raise awareness and money for nonprofit guide dog schools in the United States, accredited by the International Guide Dog Federation. Van Patten was also the patriarch of a famous Hollywood family: he was the older brother of actress Joyce Van Patten, the older half-brother of film director and Emmy-award-winning television director/producer Tim Van Patten, and the uncle of actress Talia Balsam. All the while he kept his chin up, resting assured that his comb-over was still working.


After a long career and a short stint of health issues, Van Patten died at Saint John's Health Center in Santa Monica, California, on June 23, 2015, at age 86. Complications from diabetes were the listed cause. So long, Dick; we knew you well.
--The Wiz
A
ll content (c) 2005-2015 alt.obituaries Deadpool. All rights reserved.